So much delicious food tempting you that it's difficult to keep your healthy habits in check? Try these tricks to make your Thanksgiving dinner a little healthier—and to avoid riding out an uncomfortable food coma on the couch for the rest of the night.

By altering a few ingredients, and changing a few cooking methods, you can have a delicious Thanksgiving dinner without the bloat.
1. Buy Organic Turkey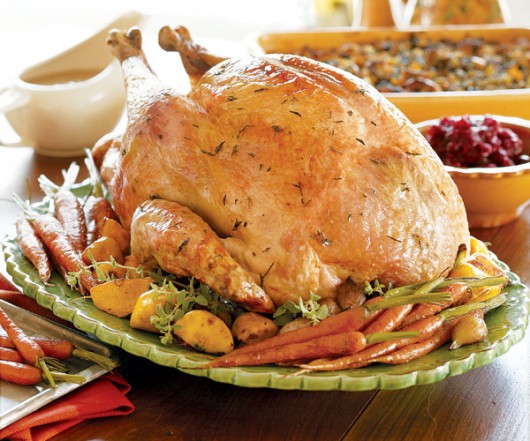 Supermarkets tend to enhance the flavor of their turkeys by adding sodium. Excess sodium is not only a major cause for high blood pressure and heart diseases, it also leads to water retention and bloat. We don't want that, do we?
In addition, turkeys labeled organic are raised without antibiotics, and the overuse of those drugs in raising farm animals is causing big problems in humans. Look for turkeys labeled "USDA Organic/No Antibiotics" for the best guarantee that a turkey is organic and raised without antibiotics.
Create your own herb-based rub to use on turkey breast. Enjoy your roasted turkey with a side of whole wheat or with a quinoa-based stuffing.
Turkey Rosemary Herb Rub
Ingredients:
4 garlic cloves, minced
1 tablespoon fresh rosemary, chopped
1 teaspoon fresh thyme, chopped
1 teaspoon fresh sage, chopped
1 teaspoon fresh basil, chopped
2 teaspoons dry mustard
1 teaspoon salt
1 teaspoon ground black pepper
2 tablespoons olive oil
3 tablespoons lemon juice, freshly squeezed
Instructions:
Combine ingredients.
Massage the rub onto the turkey breast.
Evenly spread any remaining mixture onto the turkey breast.
Refrigerate for 30 minutes.
Roast turkey breast in a roasting pan at 325 °F for an hour and a half.
Note: In order to avoid foodborne illness, please check the temperature of the turkey using a food thermometer. It should read at least 165 °F.
2. Make Your Own Cream Base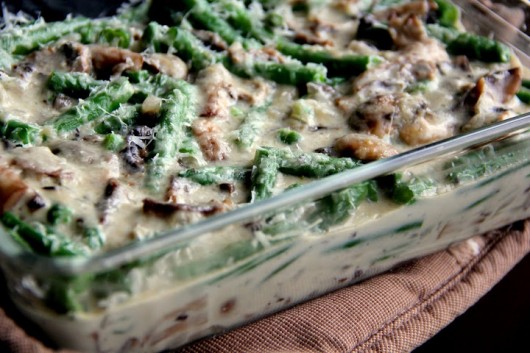 Instead of using canned soup, which is high in sodium and fat, take a few more minutes to whip up your own cream base for your green bean casserole.
Green Bean Casserole Cream Base
Ingredients:
2 tablespoons vegan butter spread, such as Earth Balance
2 garlic cloves, minced
½ cup fresh mushrooms, chopped
½ cup onion, diced
2 cups skim milk
1 teaspoon chili powder
1 cup plain low-fat yogurt
4 tablespoons whole wheat flour (as a thickening agent)
Salt and Black Pepper to taste
Instructions:
Melt the butter spread in a pan.
Sautee the garlic and vegetables.
Add 3 tablespoons flour, mixing until fully incorporated.
Slowly add milk, mixing to avoid clumping.
Add yogurt and chili powder.
Lower heat and let simmer until thickened.
If it is not thick enough, whisk in the 4th tablespoon of flour.
3. Pick Your Berries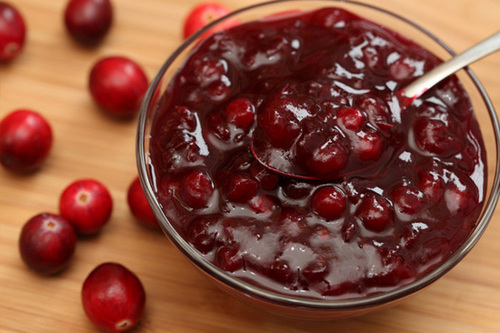 Everyone loves the cranberry sauce. Instead of using canned or processed cranberries, which contain high levels of refined sugars, create your own cranberry sauce.
Ingredients:
1 cup raw sugar
1 cup water
4 cups fresh cranberries
one lemon
Instructions:
Rinse the cranberries and clean them. Pick out and discard any damaged or bruised cranberries.
Put the water and sugar in a medium saucepan on high heat and bring to a boil.
Stir to dissolve the sugar.
Add the cranberries to the pot and return to a boil.
Lower the heat and simmer for 10 minutes or until most of the cranberries have burst.
4. Keep Your Sweet Potatoes Healthy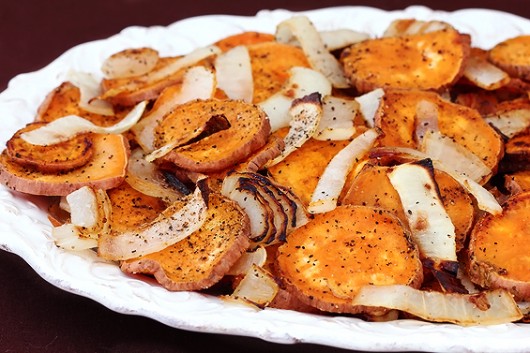 Instead of candying your sweet potatoes and transforming these naturally sweet vegetables into a sugar-containing monster, skip the sweetener and the marshmallows. 
Instead, enhance the flavor of sweet potatoes with fresh herbs to create a roasted sweet potato dish. 
Roasted Sweet Potato
Dice, or slice, your sweet potatoes.
Toss in herbs of choice with a dash of olive oil.
Roast in oven.
5. Keep Portions in Check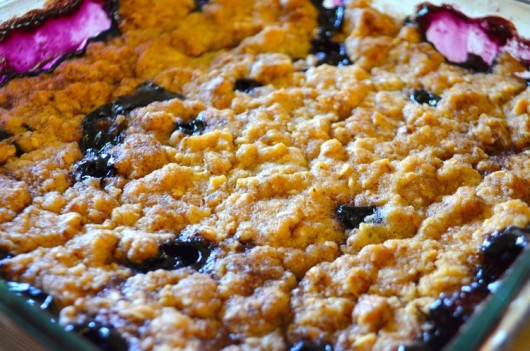 Remember, you are in control. Don't let the delicious food play mind games on you! Stick to your portion control and savor each bite, one at a time. By taking your time to eat, you can trick your mind into thinking you ate more than you actually did.
If you don't go overboard with the main dish, you can even enjoy a dessert such as this pie.
Blueberry Nectarine Crisp
Ingredients for filling:
4 cups blueberries
2 nectarines, sliced
1/2 cup sugar
1 tb cornstarch
1 tsp freshly squeezed lemon juice
1/4 tsp salt
Instructions:
Mix all ingredients for the filling in a bowl, toss, and transfer to an 8-inch, square baking dish.
Ingredients for topping:
3/4 cup flour
1/4 cup rolled oats
1/4 cup chopped almonds
1/2 tsp baking powder
1/2 tsp salt
6 Tb softened butter
1/3 cup sugar
Instructions:
Stir together the flour, oats, almonds, baking powder, and salt.
Begin by creaming the butter and sugar until it becomes fluffy.
Mix in the dry ingredients.
With your hands, clump up the topping and spread evenly over the fruit filling. 
Apply the rule of portions to the rest of your Thanksgiving dinner, go for a walk after dinner, and you will avoid the dreaded food coma and set a healthy tone for the rest of the coming holidays.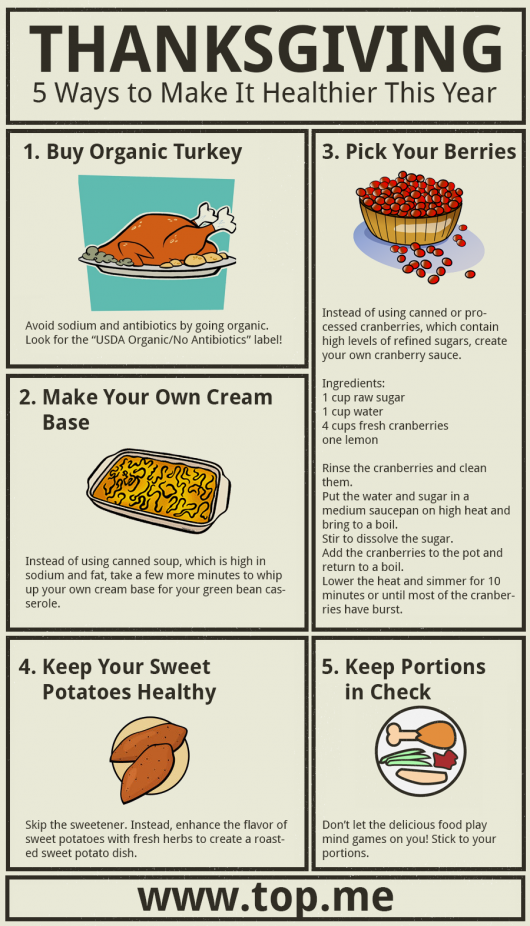 Sometimes, there is a lot of food left after Thanksgiving dinner. Here are 5 ideas how to use your leftovers.