If you face a dilemma of what to have for breakfast – pancakes or bacon? We suggest to try our delicious pancakes with bacon. Check the video recipe. It will make you long for more!
Fast Bacon Pancakes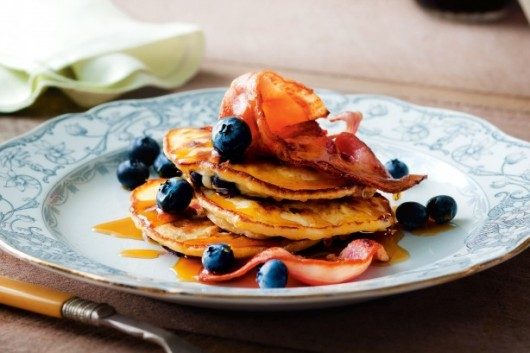 Ingredients:
150g bacon strips
2 cups all purpose flour
2 TBSP sugar
1 TBSP salt
3 TBSP butter
1 large egg
2 cups milk
Directions:
Cook the bacon strips
Sift all dry ingredients for pancakes mix in a large bowl.
Make a hole in the middle of the mixture and add the egg and melted butter.
Beat well until smooth.
In a frying pan a little oil, pour a strip of dough and add a piece of cooked bacon on top.
Gently pour a strip of dough on top of the bacon on both sides.
Continue the process for the rest of bacon slices and dip them in honey.
If you are looking what to cook for breakfast, check these 7 Breakfasts Under 300 Calories.