These easy dessert recipes make eating well with diabetes a little sweeter.  As they are lower in calories and carbs, you can add them to your diabetic diet while keeping blood glucose in check.
No-Bake Apricot-Almond Balls
Need a tasty treat— fast? These no-bake cookies pack extra crunch thanks to crushed cereal and chopped almonds. Drizzle with melted chocolate for a simple, low-carb dessert in no time.
Ingredients for 18 servings
1/3

cup creamy peanut butter


1/4

cup 68% vegetable oil spread


2

tablespoons honey


1/4

teaspoon almond extract


2

cups rice and wheat cereal flakes, crushed slightly


1/3

cup finely snipped dried apricots


2

tablespoons finely chopped toasted almonds


1/4

teaspoon ground ginger


2

ounces bittersweet or semisweet chocolate, chopped


1/4

teaspoon shortening or butter

 Directions
In a medium saucepan, combine peanut butter, vegetable oil spread, honey, and almond extract. Cook over low heat just until melted and nearly smooth, whisking constantly. Stir in cereal, apricots, almonds, and ginger until well mixed. Using slightly wet hands or a 1-ounce scoop, shape mixture into balls. Let stand on a waxed paper-lined baking sheet about 15 minutes or until firm.

In a small saucepan, combine chocolate and shortening; cook and stir over low heat until melted. Drizzle balls with melted chocolate. Chill about 15 minutes or until chocolate is set. Store in the refrigerator.
Sugar Free Brownies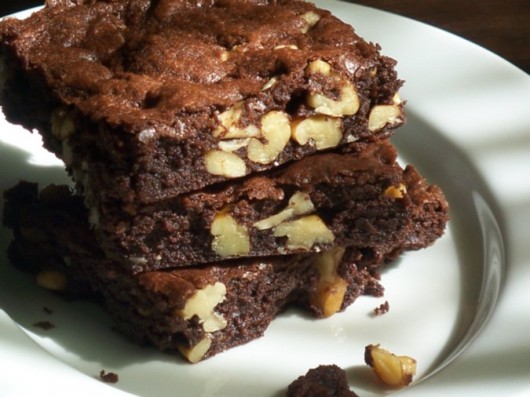 Brownies don't have to be sugar bombs to be tasty. If you are not diabetic and just looking to reduce sugar, you could use half artificial sweetener, half sugar.
Ingredients for 16 squares
1/2

cup

margarine

1/4

cup

unsweetened cocoa powder

2

eggs

1

cup

Splenda granular (sucralose artificial sweetener)

1/2 teaspoon of baking soda

3/4

cup

all-purpose flour

1/8

teaspoon

salt

1/4

cup

skim milk

1/2

cup

chopped walnuts
Directions
Preheat oven to 350°.

Spray Pam and flour an 8×8-inch pan.

In a small saucepan, over medium heat, melt margarine and cocoa together, stirring occasionally until smooth.

Remove from heat and set aside to cool.

In a large bowl, beat eggs until frothy.

Stir in sucralose sugar.

Combine the flour, salt and baking soda; stir into the egg mixture then mix in the cocoa and margarine.

Finally stir in the 1/4 cup of milk and the walnuts.

Pour into the prepared pan bake for 25 minutes in the preheated oven.

Stick in a toothpick – when it comes out clean its done.

Let cool and then cut into squares.
Lite Lemon Bars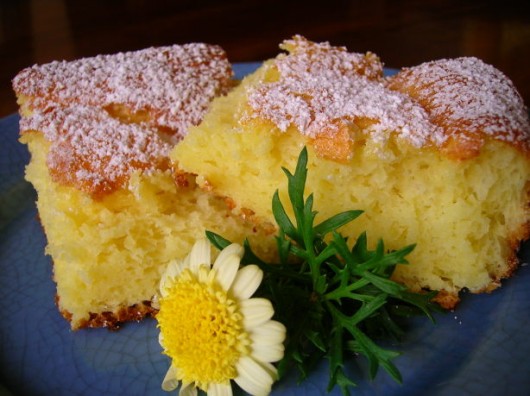 Low calorie, low sugar version of a classic dessert. 
Ingredients for 12 servings:
Directions
Preheat oven to 350°.

Spray a 9 x 13″ pan with cooking spray and set aside.

Prepare pudding according to directions on box.

Let pudding set up.

After pudding is set stir in dry lemon Jello.

Mix dry angel food cake mix into above ingredients and stir together.

Pour into prepared pan and bake for about 35 minutes.

Check with toothpick test.

Cool and sprinkle with powdered sugar through a sieve.
 Heavenly Low-Carb Cheesecake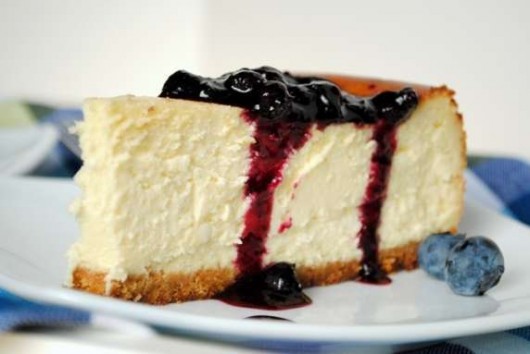 Everything you love about rich, sweet cheesecake without all the usual carbs.
Ingredients for 12 servings
3/4 cup crushed graham crackers
2 tbsp melted butter
15 oz part-skim ricotta cheese
8 oz plain nonfat yogurt
1 cup Splenda granular (sucralose artificial sweetener)
2 tbsp all-purpose flour
2 tbsp lemon juice
8 oz light cream cheese, softened
3 eggs or 3/4 cup egg substitute
2 1/2 tsp vanilla
fresh fruit for garnish
Directions
Combine cookie crumbs and margarine. Press into bottom of 9-inch springform pan. Bake at 325 degrees for 5 minutes. Cool.
In blender or food processor, combine ricotta, yogurt, sucralose (Splenda), flour and lemon juice. Blend til smooth. Set aside.
In large mixer bowl, beat cream cheese til smooth. Add eggs and vanilla. Beat on low til combined, then on high til smooth. Slowly add ricotta mixture to cream cheese and beat on low til smooth. Pour into crust.
Place on shallow baking pan in oven and bake at 325 degrees for 1 hour or until center is nearly set when shaken. (I've found it takes more like 1 1/2 hours) Cool for 15 minutes; loosen crust from sides of pan. Cool for 30 minutes more, then remove sides of pan. Cool completely. Chill for 4 to 6 hours.
Top with fresh fruit. (If top has cracked, I'll cover it with a thin layer of whipped topping or sour cream before topping with fruit.)
Coconut Macaroons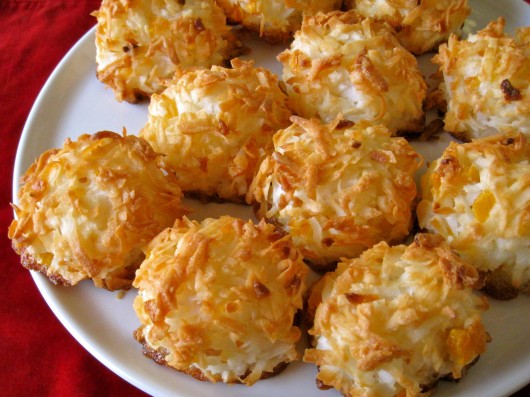 Ingredients for 35 pieces
2 large egg whites
1/4 teaspoon cream of tartar
1/3 cup sugar substitute
1 teaspoon almond extract
2 1/4 cups grated unsweetened coconut
Directions
Preheat oven to 375 degrees.
Place the egg whites and cream of tartar in a large bowl. Beat until stiff peaks form.
Continue beating, adding the sugar substitute. Fold in the almond extract. Fold in the grated coconut. Mixture will be stiff.
Bake 20 minutes. Remove macaroons to a wire rack to cool. Cookies will be 1″ in diameter.
Drop by teaspoonful onto a nonstick cookie sheet.
Black Forest Trifle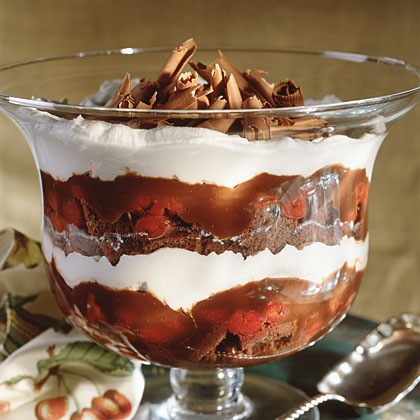 Ingredients
1 (8-ounce) package chocolate sugar-free, low-fat cake mix (such as Sweet 'N Low)
3/4 cup water
1 (1-ounce) package chocolate sugar-free, fat-free instant pudding mix
2 cups fat-free milk
1 (16-ounce) package frozen no-sugar-added pitted cherries
2 or 3 drops of red food coloring
2 cups fat-free frozen whipped topping, thawed
Sugar-free chocolate curls (optional)
Directions
Preheat oven to 375°.
Prepare cake mix according to package directions, using 3/4 cup water. Let cake cool in pan; remove from pan, and cut into cubes.
Prepare pudding mix according to package directions, using 2 cups fat-free milk; chill at least 30 minutes.
Thaw cherries, reserving 1/4 cup juice. Combine cherries, juice, and food coloring.
Place half of cake cubes in a 3-quart trifle bowl. Spoon half of cherries over cake; spread 1 cup pudding over cherries, and top with half of whipped topping. Repeat layers.
Garnish with chocolate curls, if desired (chocolate curls not included in analysis). Cover and chill at least 8 hours.