Many of us dream about having long, thick, and shiny hair. Both women and men want to keep their hair in great shape.
Looking and feeling your best can put a stride in your step and boost your self-esteem, so no matter your hair type. Here are some of the most effective ways on how you can keep your hair healthy and glowing
Regular Trims
To keep your hair healthy and in excellent condition, it's important that you get it regularly trimmed. Having it trimmed by a professional hairdresser or barber can keep your locks in check. If you have short hair, it's advisable to have it trimmed every 4 – 8 weeks. For those who have medium to long hair, getting it trimmed every 6 – 12 weeks is recommended. While it may sound counterproductive, hair trimming helps the hair with its growth.

Use Shampoo and Conditioner
Shampooing your hair will help keep your scalp clean and healthy. When you shampoo, make sure that you pay close attention to the scalp, rather than the ends of your hair. Conditioning your hair with a high-quality conditioner can help revitalize your strands and provide moisture.
Follow a Balanced Diet
One of the most important and effective methods of keeping hair healthy is by following a balanced diet. Incorporating plenty of protein, iron, and vitamins into your diet is essential for hair growth. Your hair cells require these nutrients for growth. Iron-rich foods such as fish, vegetables, and beans can give your hair a natural sheen and keep it in great condition. Alongside following a balanced diet, make sure that you drink plenty of water to keep hydrated. Doing so will improve your skin, nails, and hair.
Apply Hair Oils
A common way of promoting healthy hair growth is by applying hair oils. Known to moisturise the scalp and hair, coconut, olive, or almond oil have numerous benefits for your hair. For those who have thin or straight hair, it's helpful to apply essential oils like coconut oil before you shampoo. If you have dry hair, it's best to apply oil when your hair is wet to seal in moisture.
Handle Hair with Care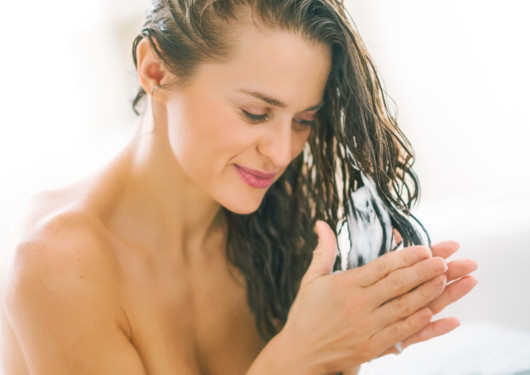 How you handle your hair can play a big part in keeping it healthy and strong. Be careful not to overstretch your strands as this can cause breakage. Brushing your hair twice a day and brushing from the bottom up is recommended. It's advised to use a brush that has wide bristles to comb your hair.
Seek Help
If you have noticed that your hair is beginning to thin and fall out, you may want to consider surgery. A hair transplant can improve your self-confidence and appearance. Temporary hair loss may also be a factor of scalp psoriasis, so make sure that you book an appointment with your doctor who will be able to give you more advice on treatments and help available.
When we step out of the front door, we all want to look and feel our best. If you have dry and damaged hair, this can have a major impact on your self-esteem and confidence. Following all the advice listed above can contribute towards keeping your hair healthy and shiny.