Got some leftovers from your big dinner? Keep the party going with these quick and easy recipes that take your holiday leftovers from boring to brilliant.
1. After-Thanksgiving Pizza
Ingredients:
1 (11-oz.) can refrigerated thin pizza crust dough
1/4 cup light pizza sauce
2 cups cubed cooked turkey
2 thinly sliced plum tomatoes
1/4 cup thinly sliced red onion
1 1/2 cups (6 oz.) shredded low fat cheese
Chopped fresh avocado
Directions:
1. Preheat oven to 450°. Unroll dough; pat to an even thickness on a lightly greased baking sheet. Bake 10 to 12 minutes or until lightly browned.
2. Spread light pizza sauce over crust. Top with turkey, tomatoes, and onion. Bake at 450° for 6 to 8 minutes. Sprinkle with cheese. Bake until cheese melts. Top with avocado.
Just substitute bacon to turkey and you'll get a healthy after-thanksgiving pizza. 
2. Turkey Salad with Cranberry Dressing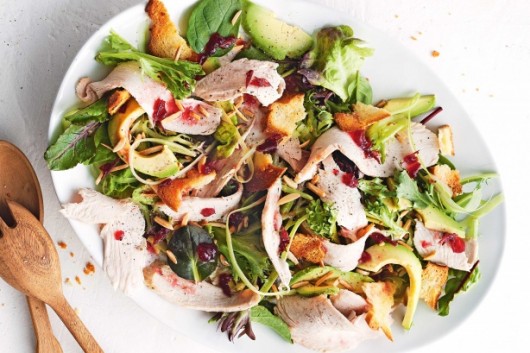 Ingredients:
1 garlic clove, finely chopped
30ml olive oil
3 x 5mm-thick dinner bread slices
2 tsp red wine vinegar
2 tbs cranberry sauce
2 celery stalks, shaved
120g mixed baby salad leaves (mesclun)
400g cooked, cooled turkey meat, sliced or shredded
1/4 cup (35g) slivered almonds, toasted
1 avocado, halved, sliced
Directions:
Preheat the oven to 200C. Combine the garlic and 20ml oil in a bowl. Season and brush over the bread slices. Place the bread on a baking tray and bake for 15 minutes or until golden and crisp. Set aside to cool.
For the dressing, place the vinegar, cranberry sauce and remaining oil in a bowl. Season and whisk to combine.
To serve, assemble the remaining ingredients on a platter and break the croutons over the salad. Drizzle with the cranberry dressing to serve.
 3. Turkey Tostadas With Spicy Cranberry Sauce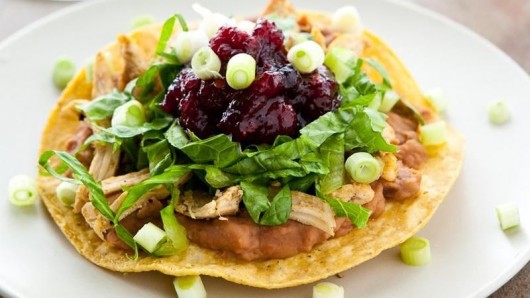 Ingredients:
50gr cranberry sauce
1 tablespoon vegetable oil
4 cups shredded cooked turkey
1 tablespoon ground cumin
1 teaspoon dried oregano leaves
1/2 teaspoon chipotle chili powder
2 cups shredded lettuce
8 tostada shells (from 4.5-oz box)
Directions:
In 1-quart saucepan, heat Sauce ingredients to boiling over medium heat. Cook 10 to 15 minutes or until cranberries have popped and sauce has thickened.
In 10-inch skillet, heat oil over medium heat. Add turkey, cumin, oregano and chili powder; stir to mix. Cook 5 to 7 minutes or until turkey is thoroughly heated.
Heat refried beans as directed on can.
To assemble tostadas, spread each tostada shell with warm refried beans. Top with turkey, lettuce and sauce.
4. Turkey & Squash Soup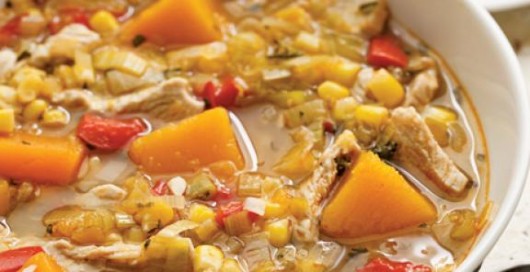 Ingredients:
2 teaspoons canola oil
2 leeks, trimmed, thoroughly cleaned and chopped (3 1/2 cup)
1 red bell pepper, cored, seeded and chopped
3 cloves garlic, finely chopped
4 cup reduced-sodium chicken broth
1 ½ lb butternut squash (2 medium), peeled, seeded and cut into 1-inch cubes
2 tbsp chopped fresh thyme or 2 teaspoon dried thyme leaves
1 ½ tsp ground cumin
1 lb cooked turkey 
2 Tbsp lime juice
1 ½ tsp crushed red pepper
salt and freshly ground black pepper
Directions:
Heat oil in a large heavy pot over medium-high heat. Add leeks and pepper; cook, stirring often until the vegetables begin to soften, 3 to 4 minutes. Add garlic and cook, stirring constantly, 1 minute more.
Stir in broth, squash, thyme and cumin; cover and bring to a boil. Reduce heat to medium-low and cook until the vegetables are tender, about 10 minutes.
Add turkey and cook through another 3 to 4 minutes. Add lime juice and crushed red pepper. Gently warm the soup until heated through. Season to taste with salt and pepper.
5. Healthy Three-Cheese Chicken Penne Pasta Bake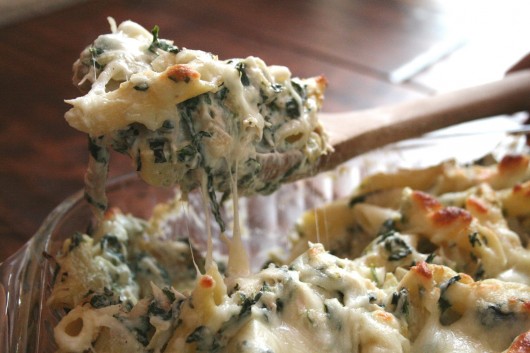 Ingredients:
1-1/2 cups multi-grain penne pasta, uncooked
1 pkg. (9 oz.) fresh spinach leaves
1 lb. cooked turkey filet finely chopped
1 teaspoon dried basil leaves
1 jar (14-1/2 oz.) spaghetti sauce
1-2 cloves garlic, minced
1 can (14-1/2 oz.) diced tomatoes, drained
2 oz. (1/4 of 8-oz. pkg.) Neufchatel cheese, cubed
1 cup shredded 2% milk mozzarella cheese, divided
2 Tablespoons grated Parmesan cheese
 Directions:
Heat oven to 375ºF.
Cook pasta as directed on package, omitting salt and adding spinach to the boiling water the last minute.
Cook and stir chicken and basil in large nonstick skillet sprayed with cooking spray on medium-high heat 2 min. Stir in spaghetti sauce, garlic, and tomatoes; bring to boil. Simmer on low heat 2 min. Stir in Neufchatel.
Drain pasta mixture; return to pan. Stir in chicken mixture and 1/2 cup mozzarella. Spoon into 2-qt. casserole or 8-inch square baking dish.
Bake 20 min.; top with remaining cheeses. Bake 3 min. or until mozzarella is melted.