Winter is the perfect time for warm and creamy soups. Even if you keep to a clean eating, you still can try one of our easy and healthy soups that will warm you up in some cold days without all the extra bulk.
Tips for making cream soup lighter: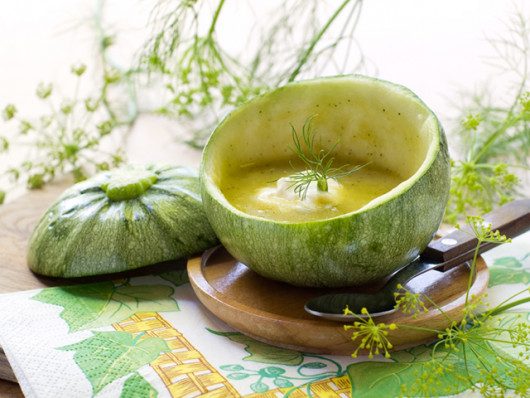 Reduce the fat – use low-fat cream or fat-free sour cream. Fat-free plain yogurt is also a great substitution. 
Add vegetable puree –  It will make your soup thick and creamy but healthier. 
Add rice –  A small amount of rice to the soup gives it a high flavor and thickness but saving the calories.
Blend in tofu –  If you like tofu, substitute half of the cream with tofu. Good for vegetarian!
1. Silky Zucchini Soup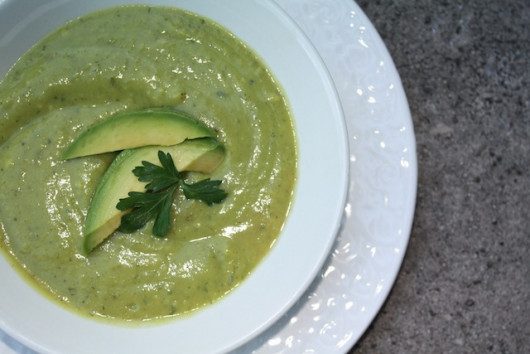 Ingredients:
2 zucchinis
2 chicken bouillons
2 TBSP pepper
1 onion (chopped)
150g Ricotta cheese
1 TBSP nutmeg
2 TBSP butter
Directions:
Melt the butter in a pan, add the onion cook for 2 min and add the Zucchini. Simmer for 20 min.
Add the bouillons and 2 water cups to dissolve it, then cook for another 10 min or until the zucchinis is soften.
Place the Zucchinis in a blender and mix.
Add the Ricotta cheese.
2. Cream of Pumpkin Soup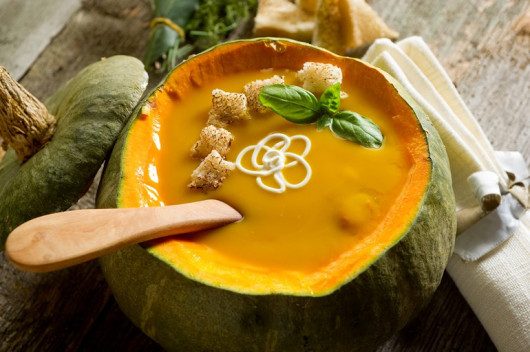 Ingredients:
2 tablespoons olive oil
1 onion, chopped
2 garlic cloves, chopped
600g pumpkin, peeled, chopped or canned pumpkin puree.
1 potato, chopped
2 carrots, chopped
3 cups stock/water
1/2 cup low-fat cream
1 tablespoon pumpkin seeds
1/2 teaspoon ground nutmeg
Directions:
Heat oil in a large saucepan over medium heat. Add onion and cook for 2-3 minutes until soft. Add garlic, vegetables and nutmeg. Add stock and 2 cups (500ml) water, then bring to the boil. Reduce heat to low, cover and cook for 25 minutes or until the vegetables are tender. Cool slightly. Blend everything until smooth. Return soup to the saucepan and place over low heat. Stir in cream, then season. When serving, top with seeds.  
3. Potato Ham Soup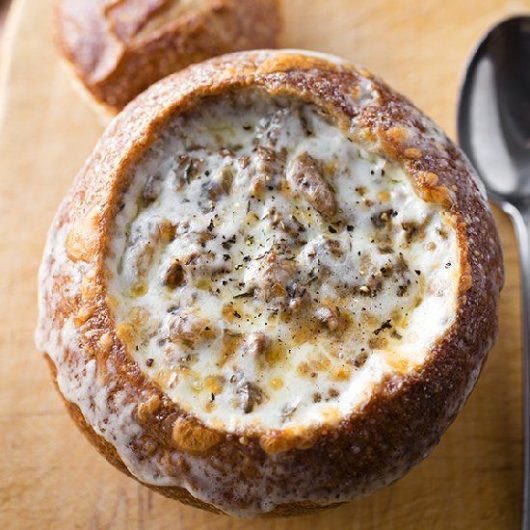 Ingredients:
3 1/2 cups peeled and diced potatoes
1/3 cup diced celery
1/3 cup finely chopped onion
3/4 cup diced cooked ham
3 1/4 cups water
2 tablespoons chicken bouillon granules
1/2 teaspoon salt, or to taste
1 teaspoon ground white or black pepper, or to taste
5 tablespoons butter
5 tablespoons all-purpose flour
2 cups milk
Directions:
Combine the potatoes, celery, onion, ham and water in a stockpot.
Bring to a boil, then cook over medium heat until potatoes are tender, about 10 to 15 minutes.
Stir in the chicken bouillon, salt and pepper.
In a separate saucepan, melt butter over medium-low heat.
Whisk in flour with a fork, and cook, stirring constantly until thick, about 1 minute.
Slowly stir in milk as not to allow lumps to form until all of the milk has been added.
Continue stirring over medium-low heat until thick, 4 to 5 minutes.
Stir the milk mixture into the stockpot, and cook soup until heated through.
Serve immediately.
4. Mushroom Cream Soup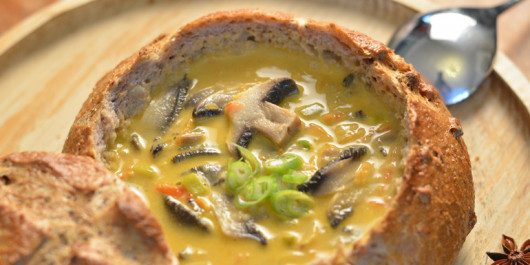 Ingredients:
1 tablespoon olive oil
2 garlic cloves, minced
1/2 sweet onion, chopped
1 teaspoon crushed red pepper
1 pound fresh mushrooms, chopped
1 tablespoon all-purpose flour
32 ounces beef, chicken, or vegetable stock
1 cup low fat cream
salt
ground pepper
dried thyme
Directions:

Heat oil in a large pot over medium heat. Cook garlic, onions and red pepper, stirring frequently, for 5 minutes or until onion is tender. Add salt and pepper.
Add mushrooms and cook, stirring occasionally, for 5 minutes until tender.
Stir in flour, stock, cream and thyme. Cook for about 10 minutes, stirring occasionally.
Let cool slightly. Blend soup until creamy.
5. Creamy Salmon Soup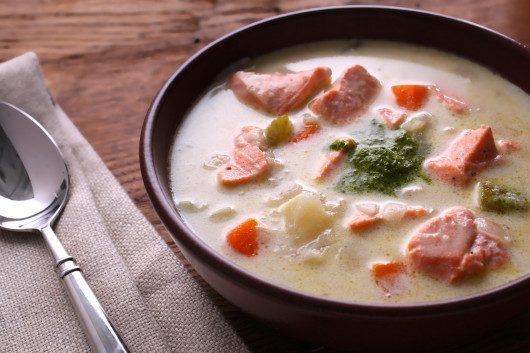 2 lbs Salmon, skinless fillet
2 Onions, medium
3 Potatoes, medium
1 cup low-fat cream/milk/sour cream
4 cups water
pepper
salt
Directions:
Boil water. Add potatoes, onions, salt, pepper and reduce heat.
Cover and simmer until potatoes are almost tender, about 10 minutes.
Add salmon. Cover and simmer until fish is tender.
Stir 1/2 cup of the soup liquid into a cream/milk/sour cream. Gently stir cream mixture into the soup; heat through. 
6. Broccoli Cream Soup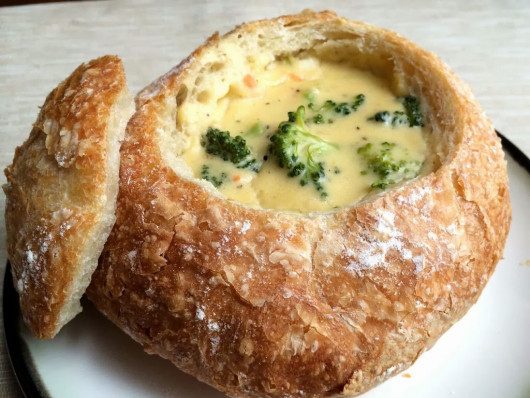 Ingredients:
1 package of frozen broccoli
1 can condensed cream of mushroom soup
1 cup of low-fat cream or milk
8 ounces of reduced-fat cheese
salt 
pepper
Directions: 
Prepare broccoli according to directions. 
Add cream of mushroom soup and can of milk to broccoli. Stir and heat thoroughly on low.
Add cheese, stirring until melted. Add salt and pepper to taste. 
Serve warm.