You've heard it before – chicken is lean, versatile and the mother of all protein sources. But after a week of grilled chicken and broccoli, you just can't see it anymore? Australian foody Sarah Ravidran to the rescue! She shares these six delicious chicken recipes that will let you taste chicken like you never did before.
Jean Anthelme Brillat-Savarin via Reddit
Indian Butter Chicken Curry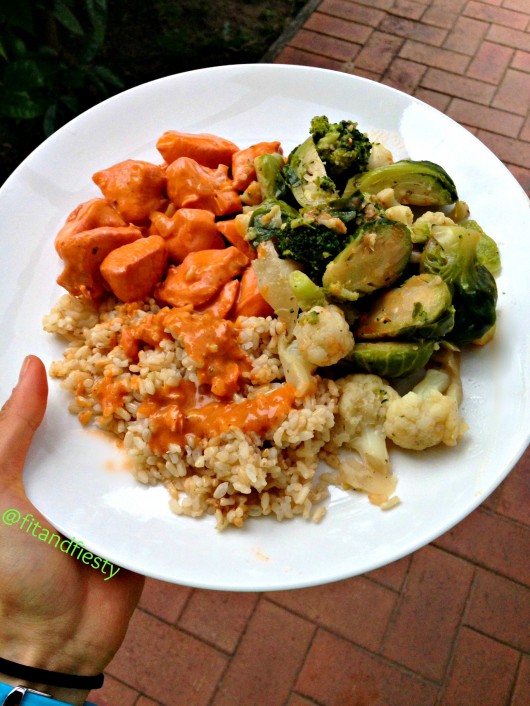 Serves 4
Ingredients:
500g chicken Breast
1/2 onion, diced finely
1 packet Celebrate Health Butter chicken Recipe Base
1 can (375g) coconut cream or low-fat naturalyYoghurt
1 tbsp each of cumin, garam masala and chilli flakes (optional, still tastes great without)
brown rice to serve
For the vegetables:
4 cups of broccoli, cauliflower (cut into florets) and brussel sprouts (cut in half)
2 cloves garlic, minced or chopped finely
coconut oil
Instructions:
Cut chicken into chunks and marinate using 1/4 of the recipe base for 20mins.
Fry the onion in some oil until fragrant and then add chicken and fry until sealed.
Add the rest of the recipe base and the coconut cream and leave on a slight simmer for 5-10 minutes, until chicken is cooked through.
In the meantime, sauté garlic in a large pan or wok with coconut oil until fragrant.
Add veggies and fry for 1-2 minutes.
Cover the pan and let the veggies continue cooking for 3-4 more minutes.
Add pepper if desired.
Serve the veggies with brown rice and the curry, steaming from the pot.
Feta and Spinach Stuffed Chicken Breast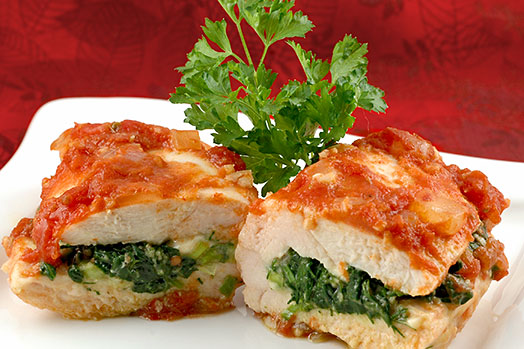 Serves 4
Ingredients
4 chicken breasts (tenderloins removed)
Seasonings of choice; I used Mrs. Dash Southwest Chipotle
100g reduced fat/sodium feta cheese
4 large handfuls of spinach
4 heaping tbsp. bolognese or tomato pasta sauce
Instructions:
Preheat oven to 180C/350F.
Cut the cheese into small cubes.
On another chopping board, slice the chicken breasts down the middle and open them up so they are flat (butterfly them).
Season both sides with preferred seasonings then place feta cheese and spinach along one side of the breast and fold over with the other half, enclosing the cheese and spinach.
Using toothpicks, pierce through the sides of the chicken breast, in order to keep them closed.
Place in the oven and let bake for 15 mins.
After 15 mins, or just before the chicken is fully cooked, take the breasts out of the oven and top each with the pasta sauce then place back into the oven for another 5 minutes or until chicken is fully cooked through.
Serve and enjoy!
Teriyaki Chicken Stir Fry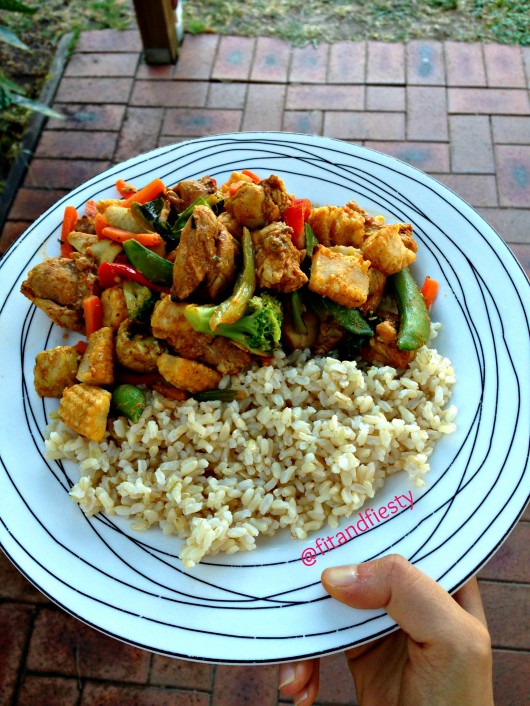 Serves 2
Ingredients:
1 tbsp extra light olive oil
1 brown onion, cut into wedges
500g chicken breast fillet, thinly sliced
teryaki sauce
2 tbsp. soy sauce
stir-fry veggies (I used broccoli, baby corn, green beans, capscium, sliced carrots and snow peas)
cooked brown rice, to serve
Instructions:
Heat oil in a wok or non-stick pan over high heat.
Add onion and cook for 1 minute. Add chicken and stir-fry for 2 to 3 minutes or until brown.
Add harder veggies (such as broccoli, corn, carrots), recipe base and soy sauce and stir-fry 2 minutes.
Add softer veggies until all are cooked and chicken is cooked through.
Serve with brown rice.
For Home-made Teryaki Sauce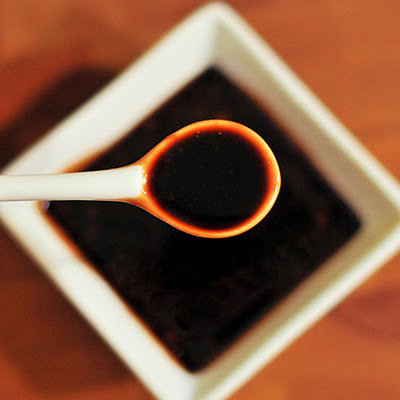 Ingredients:
Sauce:
1/2 c soy sauce
1/4 c water
2 tbsp. sweet rice wine
1 tbsp. plus 2 teaspoons brown sugar
1 1/2 tsp. minced garlic
1 1/2 tsp. minced ginger
Instructions:
Combine all ingredients in a saucepan on medium heat.
Simmer until sweetener is dissolved and sauce has slightly thickened.
Grilled Chicken Burritos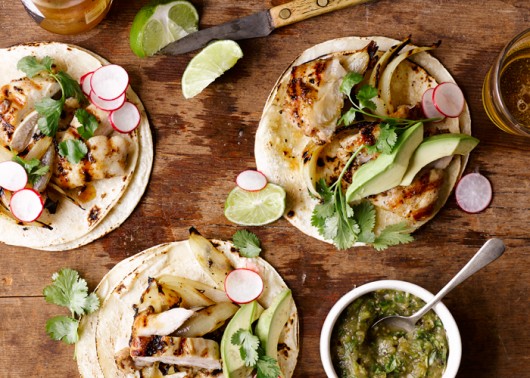 Serves 4
Ingredients:
1 medium onion, cut into wedges 
2 garlic cloves finely chopped
500g skinless, boneless chicken thighs
1 tbsp. cumin seeds, crushed
1 tbsp. coconut oil
4 wholemeal tortillas, warmed
1 avocado, sliced
salsa of choice (choose a low sodium version)
lettuce, tomatoes, capsicum and corn
 Instructions:
Preheat grill to medium heat.
Toss onion, garlic, chicken, cumin and oil in a medium bowl.
Grill the onion and chicken until cooked through, about 4 mins per side.
Let the chicken rest for 5 minutes before serving with tortillas, avocado, salsa and veggies.
Chicken Satay Recipe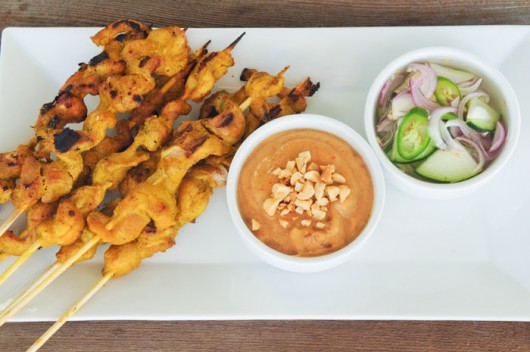 Serves 1 
Ingredients:
200g chicken breast
60ml coconut milk
2 tbsp. coriander root, chopped
½ tsp curry powder
½ tsp. turmeric powder
2 tsps. brown sugar
½ tbsp. fish sauce
2 tbsp. vegetable oil
peanut sauce
3 tbsp. vegetable oil
2 tbsp. red curry paste
½ tsp. ground coriander
½ tsp. ground cumin
2 cups coconut milk
2 tbsp. lime/tamarin juice
Instructions:
Cut the chicken into thin strips.
Mix all the other ingredients for the marinade and mix with the sliced chicken. Marinate the chicken for atleast 3 hours or overnight. Also soak bamboo straws in water.
Pierce chicken strips with bamboo skewer and grill until done.
For the peanut sauce, heat oil in a saucepan. Add the curry paste and fry until fragrant, on reduced heat.
Add the dry spices and continue to cook for a minute or two, then add the coconut milk and lime juice.
Boil until the sauce thickens and serve warm which chicken skewers.Goes great with a side dish of brown rice and cucumber salad.
Coriander-Lime chicken with Avocado Salsa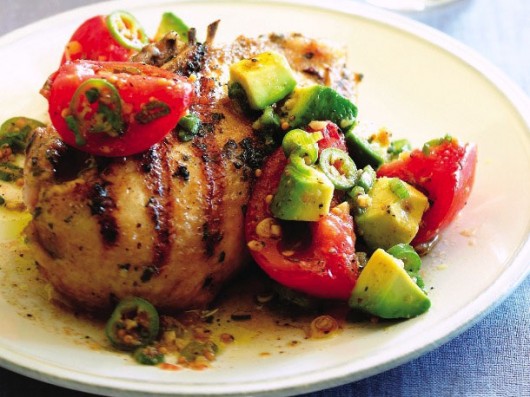 Ingredients:
Serves 4
4 skinless chicken breasts
2 ½ tbsp. fresh lime juice
1 ½ tbsp. olive oil
2 tbsp. coriander/cilantro, minced
Salsa: 
1 c tomatoes, chopped
2 tbsp. finely chopped onion
2 tsps. fresh lime juice
½ tsp. black pepper
1 avocado, peeled and finely chopped
Instructions:
Combine first 4 ingredients in a large bowl; toss and let stand 3 minutes.
Remove chicken from marinade; discard marinade.
Heat a grill pan over medium-high heat. Grill chicken until done.
To prepare the salsa, combine the first 4 ingredients in a medium bowl. Add avocado and mix gently.
Serve immediately or chill until ready to serve with chicken
So hopefully, with these six recipes, chicken can once again become a staple in your diet, helping you with muscle gains, while staying lean!