Sweet doesn't mean always bad and unhealthy. We chose 7 healthy sweet treats that will satisfy your sweet tooth and won't add a pound on your waist. Eat them without any guilt. 
1. Cheesecake Cookies
Ingredients:
For the cookie dough:
1 Sleeve of Crackers (1 1/4 cups)
1 tbsp baking powder
1 cup all-purpose floor
8 tbsp unsalted butter
1/4 cup sugar
1 egg white
For the cream cheese filling:
6 tbsp cream cheese
1/2 cup sugar
1 egg yolk2 tsp lemon zest
1 tsp vanilla extract

Directions:
In a large bowl, stir together the cracker crumbs, flour and baking powder. In a medium bowl, beat together the butter with the sugar using a mixer. Add the egg white and beat until well combined. Add to the cracker crumbs and blend until just combined.
In a separate medium bowl, beat together the softened cream cheese with the sugar, egg yolk, lemon zest and vanilla until well combined. Set aside.
Take the cracker crumbs dough and make little balls, then flatten slightly, pressing your thumb in the center of the ball to create a small bowl shape. Repeat with the remaining dough. Spoon the cream cheese into the indents in the cookies.
Bake for 20 min.
2. Stuffed Apricots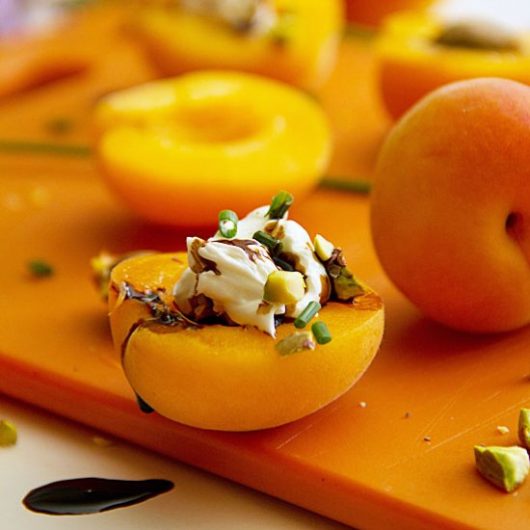 Ingredients:
8-10 apricots
Goat cheese or any light cream cheese
Honey, nuts (optional)
Directions:
Cut the apricots in half, remove the pits.
Grab a small piece of cheese and place it in the center of the apricot. Drizzle with honey, sprinkle with nuts.
3. Sweet Pumpkin Cookie
Ingredients:
200g buttercup pumpkin
2 cups Self-raising flour
2 tbsp powdered sugar
1 tbsp ground nutmeg
Pinch of salt
2 tbsp unsalted butter
2 eggs
1 cup buttermilk
Forest Fruits Jam
Directions:
Cut pumpkin in pieces and boil for 20 min, or until is tender.
Smash the tender pieces of pumpkin.
Sift flour, nutmeg, sugar, butter and salt into a bowl.
Mix until resembles fine breadcrumbs.
Beat eggs in a different bowl and mix it with the buttermilk.
Save a little eggs and buttermilk mixture for later.
Add the eggs and buttermilk mixture to the flour.
Add the pumpkin to the mixture.
Stir until a sticky dough forms.
Take small portions of dough and make rounded shapes
Put in a lightly floured tray
Pour the remaining egg and buttermilk mixture over the biscuits
Bake for 15 min.
Serve with jam.
4. Watermelon Cups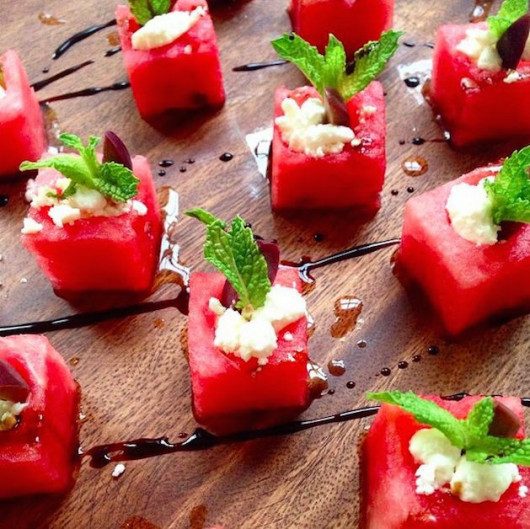 Ingredients:
Watermelon
Fruits
1 tablespoon feta cheese
Directions:
Scoop out center of each watermelon cube from top.
Put watermelon cups to serving platter. Cut and mix fruits in medium bowl.
Spoon fruit mixture into watermelon cups.
Top with cheese.
5. Sweet Potato Hummus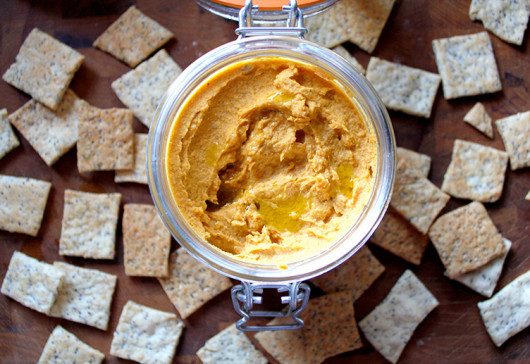 Ingredients:
1 big or 2 medium sweet potatoes 
1 tbls olive oil
3 tbls tahini
Can of beans (chickpeas)
1 lemon
Salt, pepper
Directions:
Peel one large sweet potato and then chop it. Drizzle with 1 tablespoon of olive, salt and black pepper. Stir the potato with hands.
Pre-heat the oven and roast the potato in 375°F for 35 minutes.
Let the potato cool. In blender, combine the sweet potatoes with a can of beans, 3 tablespoon of tahini and 1/2 lemon juice.
Add salt and pepper. Pulse it until smooth.
Serve with vegetable chips or crackers.
6. Strawberry Pavlova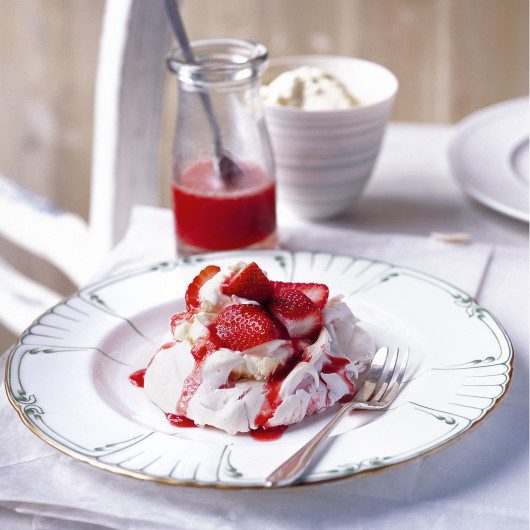 Ingredients:
200g fresh strawberries, quartered
150ml light cream
stevia or any other sweetener
1 teaspoon vanilla bean paste
8-10 Meringue Nests
Strawberries and mint, to decorate
Directions:
Cut strawberries in quarters and place in a food processor and process until coarsely chopped.
Place cream, stevia, vanilla bean paste in a bowl. Use an electric beater to whip until soft peaks form. Gently the strawberries.
Divide strawberry cream among the meringues and top with fresh strawberries and mint leaves.
7. Honey Roasted Nuts and Fruits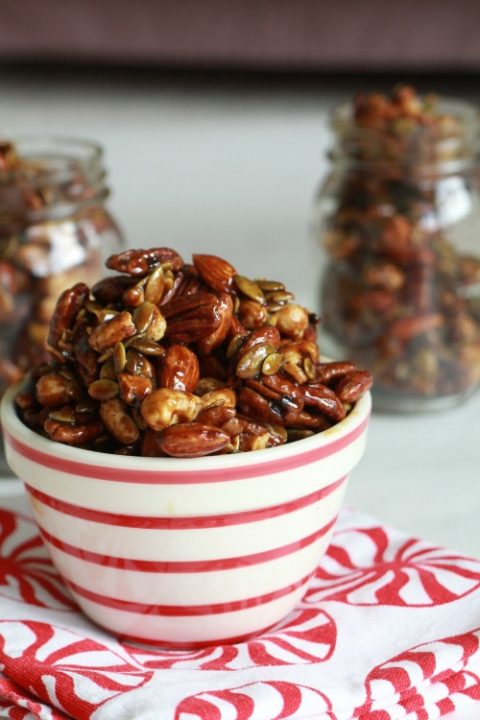 Ingredients:
1 teaspoon butter
1/2 cup honey
1/2 cup slivered almonds
1/2 cup chopped hazelnuts
1/2 cup chopped pecans
1/2 cup sunflower seeds
1/2 teaspoon ground cinnamon
1/4 teaspoon salt
1 cup raisins
Directions:
Coat parchment paper or foil with cooking spray.
Heat butter over medium-high heat and stir in honey and cook 2 minutes or until mixture bubbles around edges.
Add nuts and next 5 ingredients, and cook over medium heat until nuts are golden, about 8 minutes, stirring frequently. Stir in raisins.
Immediately spread onto prepared baking sheet; cool completely.
If they are sticky after they cooled, put them them in the refrigerator.
Check these 8 healthy treats from our Australian fitness foodie to never cheat on your diet.