Who said cream sauce can't be healthy? Our homemade avocado pesto cream sauce is so light and healthy that you can enjoy it even for dinner. Here is our easy-to-follow recipe.
Avocado Pasta Pesto Recipe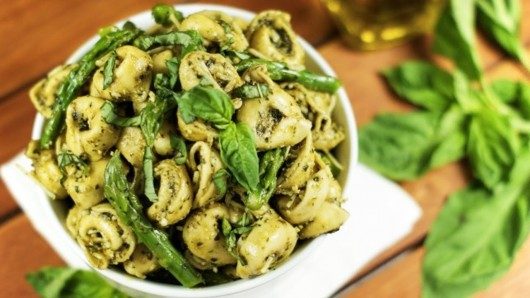 Ingredients:
1 large avocado
1-4 cloves garlic (raw or roasted)
500g tortellini
1/2 cup raw walnuts
2 lemons, juiced + pinch of zest
big handful of greens (basil or other leafy greens like kale, arugula, spinach, parsley)
salt and pepper to taste
topping: nutritional yeast, red pepper flakes, greens garnish
Directions:
Boil water and add tortellinis. Cook until tender. Drain pasta.
Add all sauce ingredients to a blender and blend on high until silky smooth.
Pour as much sauce as you'd like over top the pasta – start with a small amount and add more until it is creamy to your preferences. Toss well. Make sure the pasta is still very warm/hot when you add the sauce so that the pasta warms the sauce.
Here are more ideas on how to vary your dinners – hasselback potato stuffed with bacon or delicious spinach and ricotta gnocchi. Eat different and tasty!