This delicious Italian dish is so easy to make yet to tasty. Check our light and quick Spinach and Ricotta Gnocchi recipe.
Spinach and Ricotta Gnocchi Recipe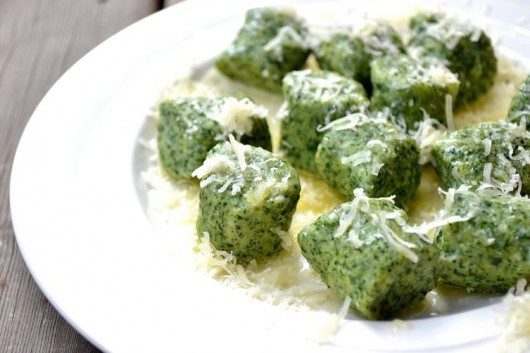 Ingredients:
2 handfuls spinach leaves
500 g of ricotta cheese
2 eggs
1 1/2 cup flour
2 tsp ground pepper
1 cup Parmesan cheese
A pinch of salt
Italian tomato sauce
Directions:
Place the spinach leaves in a pot without water. Cover with lid and simmer for 10 minutes until spinach is wilted.
In bowl mix spinach with ricotta cheese, 1 cup Parmesan cheese, eggs, pepper and 1 cup flour (save the other half cup for later).
Take a tablespoon of dough and make elongated shapes. Sprinkle the remaining half cup of flour over one tray and place the dough forms and pass them in flour again.
In a large pot with boiling water, place a pinch of salt and boil the gnocchi until they start to float up. Remove them from the water and then drain.
Serve the Gnocchi with Italian tomato sauce and some parmesan cheese.
If you like easy, light, healthy food, here are some tasty veggie summer fast food recipes.
Enjoy!