Kayaking is an excellent way to spend time with friends, make new ones or commune with nature.
The sport is also accessible to most ages and fitness levels because of the variable intensity level — from gentle paddling to intense multi-hour voyages through white-water rapids. 
Since kayaking is such a great workout, the health benefits are no surprise. But what's the exact effect of this activity on your body? What can you gain from kayaking?
1. Strengthen Core and Upper Body
You may think kayaking is mostly an arm workout, but paddling and steering a kayak gets the whole body involved. Paddling requires you to use your back and shoulder muscles, while turning works out your upper body. Because you'll need to keep a grip on your paddle, kayaking will have a notable impact on the muscles in your hands and forearms.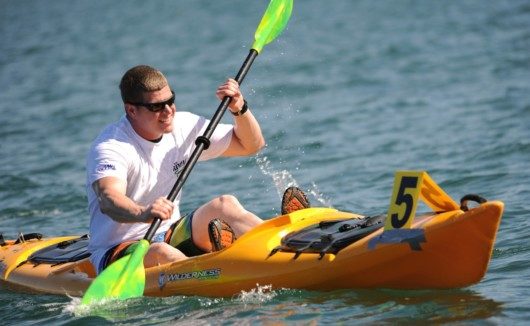 Keeping yourself upright while on the water is also an intense core workout. You may notice improvements in your core strength and overall muscle endurance after only a few trips on the water. Even your legs are part of the process, helping you remain steady and seated in the kayak.
2. Train Your Brain
Beyond the physical, kayaking might have a significant impact on your mental clarity. It can improve cognitive function in older adults with mild cognitive impairment, according to a 2018 study published in the Medical Science Monitor. The study found kayaking can improve your posture, as well.
Even if you're young, the sport can still help your brain function. Exercise is a great way to relieve stress, and stress is bad for your brain — especially in the long run. Kayaking can help you prevent the negative long-term effects of stress, like memory loss and a weakened immune system.
3. Lose Weight
Kayaking is a fantastic weight loss exercise. You can burn up to 350 calories per hour while kayaking. Considering that most kayaking sessions are several hours long, many people burn 1,500 calories or more in a day on the river — 75% of the recommended daily calorie intake. The sport's intensity varies depending on what kind of kayaking you're doing. Sea and white-water kayaking are the most intense and will likely burn the most calories.
4. Save Your Joints
Kayaking requires less up-and-down movement and extreme motion than other exercises. Because of this, it can exercise and strengthen your muscles and tendons without risking damage to your joints or tissues.
5. Strengthen Your Cardiovascular System
In the same way that it strengthens your muscles, kayaking helps your heart and lungs. The rapid and consistent movements you need to keep the vessel moving get your heart and lungs working overtime.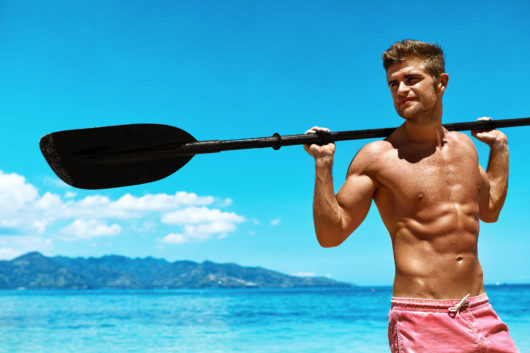 Curious about this specific benefit of kayaking? You'll gain a stronger cardiovascular system and all of the long-term health benefits that come with it — such as increased lung capacity, easier breathing and a heart that's less prone to heart disease.
6. Spend Time in Nature
Spending time in nature is good for your brain. It's so good, in fact, researchers discover new benefits of spending time in nature every year. Any connection to the natural world — for an hour or two, a whole day or even longer — is a boon to your mental health. The thrill and adventure of white water rapids can be especially appealing.
A connection with nature can improve your social skills and make you more mindful, and exercising in nature can increase these benefits even further. Kayaking, with its combination of peaceful drifting and higher-intensity motion, is especially good at keeping you moving with the moment.
Kayaking also gives you a great chance to get some vitamin D. It's one of the toughest vitamins to get enough of in your diet, and you may not be getting sufficient sunshine to make up the difference — especially if you're spending your weekdays cooped up at home or in the office.
7. Discover a New Community
If you spend a couple of hours on a river with a handful of other people, you're going to get to know them pretty well. New friends are great for your mental health, and you won't find a better way to make friends than to come to their aid when their kayak flips over in rapids. You might even find the kayaking community sticks with you, even outside of your time on the water. Spend enough time together, and you may discover you've made friends for life.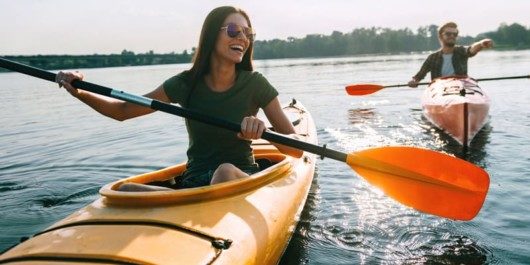 Whether you plan on a gentle afternoon outing or an intense white-water experience, kayaking is excellent for just about every aspect of your health. Make new friends, discover a new community and give yourself a workout — all while surrounded by nature. 
If you love kayaking, you'll also love this guide that will help you choose the best recreational kayak –https://www.globosurfer.com/best-recreational-kayaks/.
Author Bio:
Dylan Bartlett
Lifestyle Blogger, Just a Regular Guide