These 10 delicious finger food recipes are ideal for any friends party or a family visit.  They are light and easy. Try some of them.
1. Mozzarella Sticks
Ingredients:
2 cups cornflakes
1 cup all-purpose flour
2 large eggs, beaten
4 sticks mozzarella string cheese
Directions:
While the cornflakes are still in the bag, smash them with a pan or measuring cup until they are the consistency of breadcrumbs. Set up a breading station: put the flour in one bowl and season with the salt and pepper; put the eggs in another. Put the bag of cereal crumbs on the side.
Cut the string cheese in half crosswise so they are the length of regular mozzarella sticks. Dip each piece in the flour to coat, shake off the excess, drop in the eggs and then drop in the bag of cornflake crumbs and shake to coat.
Drop the coated cheese back in the egg and then cover with another layer of cornflakes.
Fry on a hot pan with oil for 5 min.
2. Bacon Wrapped Potatoes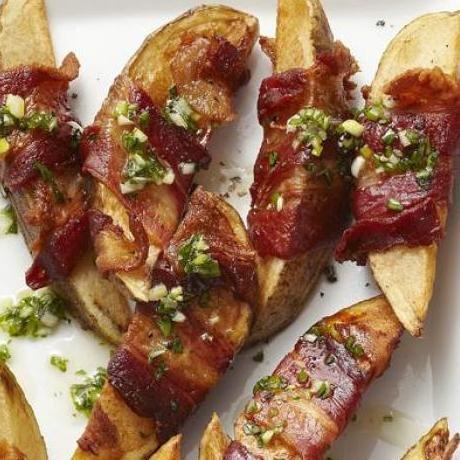 Ingredients:
8 bacon slices, cut in half crosswise
16 small potatoes
Directions:
Preheat oven to 400 degrees.
Wrap each potato with a bacon and secure with a toothpick.
Place in a baking dish and bake until bacon is crisp and potatoes are tender, 40 to 50 minutes.
3. Zucchini Fries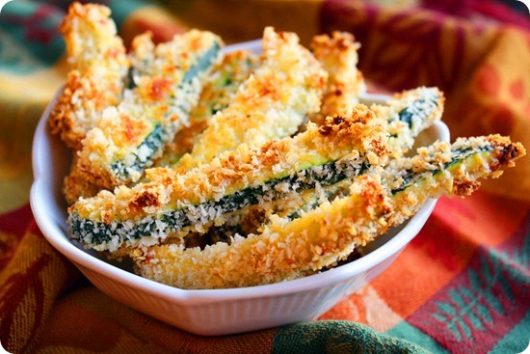 Ingredients:
1 large zucchini, sliced into skinny sticks
2 large egg whites, beaten
1/2 cup bread crumbs
3.5 tsp grated Parmesan cheese
1/3 tsp dried basil
1/4 tsp garlic powder
Salt and pepper, to taste
Directions:
Preheat oven to 425°.
Beat egg whites with a fork in a bowl.
Mix well breadcrumbs, basil, garlic powder and cheese on a plate.
Dip the zucchini sticks in the egg whites and roll into the bread crumb mixture, to coat well and place on the baking sheet.
Bake for 20-25 minutes, turning over half way through. When the sticks will be golden brown and a little crispy, they are done.
4. Watermelon, Cheese and Ham Skewers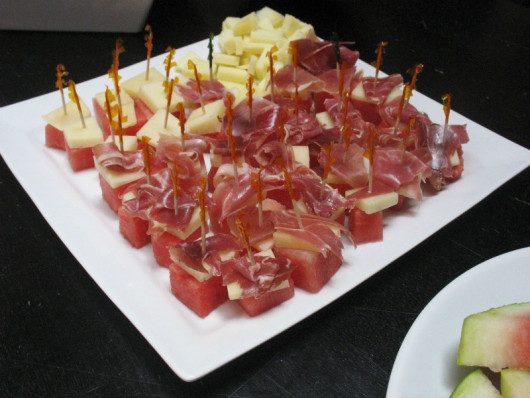 Ingredients:
1 1/4 lb. seedless watermelon
1/2 lb. ham, thinly sliced
5 oz. cheese
Freshly ground pepper
Directions:
Cut the watermelon into 1-inch cubes. Cut the ham into thin strips about 1/2 inch wide. Cut the cheese into squares to fit the top of the cubes.
Place a piece of cheese on top of a watermelon cube, and then carefully top with 1 or 2 folded strips of ham. Secure with a cocktail pick.
5. Honey Shrimp Skewers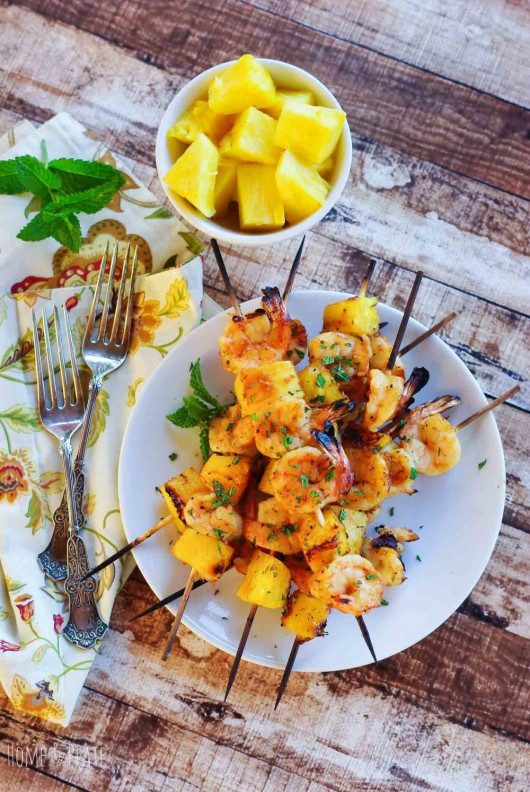 Ingredients:
1/2 cup soy sauce
1/3 cup honey
1/4 cup fresh lemon juice
3 tablespoons olive oil
2 garlic cloves, minced
1/4 teaspoon cracked black pepper
1 pound (about 24) large shrimp
24 nectarine or pineapple wedges
sesame seeds
Directions:
Combine first 7 ingredients in a bowl.
Thread shrimp and nectarines alternately on skewers. Place skewers in a shallow dish; drizzle with 1/2 cup soy sauce mixture, turning to coat. Cover and refrigerate 30 minutes.
Preheat grill to medium-high heat. Remove skewers from marinade. Grill skewers 3 minutes on each side or until shrimp are opaque. Garnish, if desired.
6. Baked Sweet Potato Chips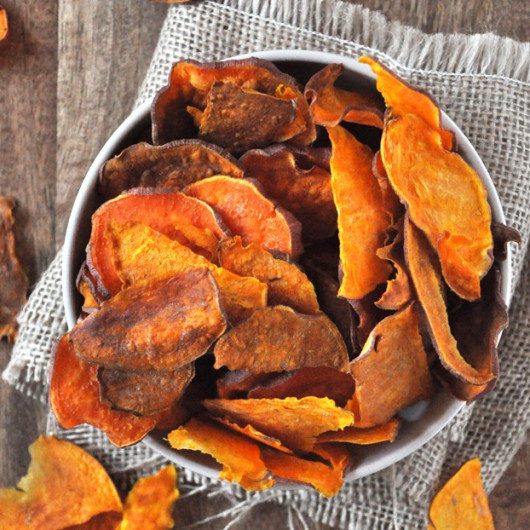 Ingredients:
2 big sweet potatoes
2 Tbsp olive oil
1/4 tsp sea salt (optional)
Directions:
Preheat oven to 250 degrees.
Rinse, dry and slice the potato as thin as possible. If chips are too thick in parts they won't crisp up all the way.
Coat slices lightly in olive oil, then sprinkle with salt. Lay out on a baking sheet and bake for about 2 hours, flipping or rotated for more cooking.
Remove once crisp and golden brown. Serve with homemade hummus.
7. Tomato and Ricotta Bruschetta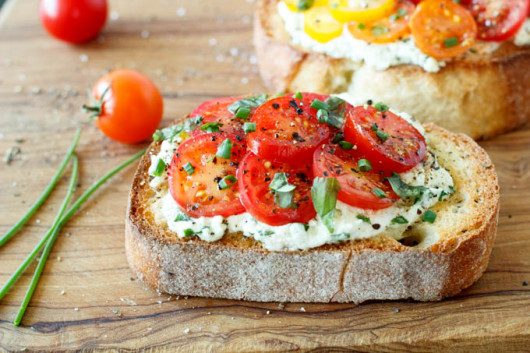 Ingredients:
tomatoes, chopped and seeds discarded
half a small onion, finely sliced
2 tsp olive oil
1 tsp vinegar
bread, sliced
60 g ricotta or any other light cream cheese
Directions:
Stir together the chopped tomatoes and sliced onion with a dash of olive oil and vinegar.
Toast the bread. Cut in half and spread with ricotta or cream cheese to your taste.
Top with the fresh tomato salsa and serve with a green salad.
8. Fruit Kebabs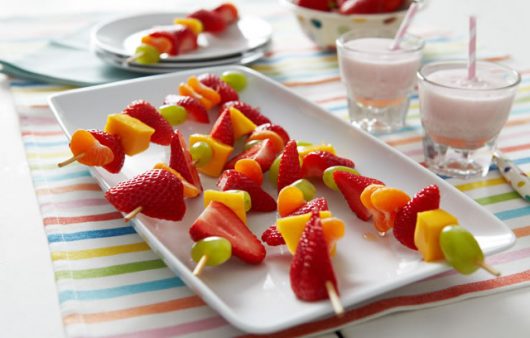 Ingredients:
3 or 4 different kinds of fruit,berries. 
Lemon juice from 1 or 2 lemons
Medium size bamboo wood skewers
Mix Greek yogurt with honey (optional)
Directions:
Wash, peel and cut fruits into medium chunks in a bowl. 
Squeeze fresh lemon juice.
Thread the fruit through the skewers.
Serve on the plate with a Greek yogurt deep or a tasty nut butter dip. Check these 9 healthy homemade nut butters.
9. Veggies Cups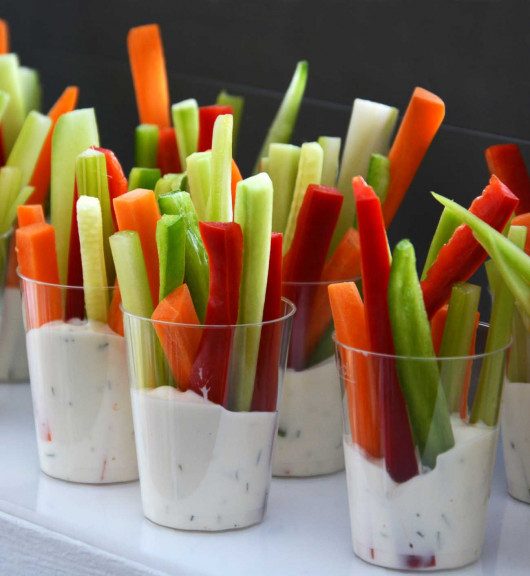 Ingredients:
Fresh vegetables (carrot sticks, celery sticks, red and green pepper sticks)
1 cup of low fat greek yogurt or homemade hummus.
Directions:
Pour 2-3 tablespoons of greek yogurt or homemade hummus in each cup.
Place 3/4 cup vegetables in each cup.
Serve on platter.
10. Smoked Salmon Rolls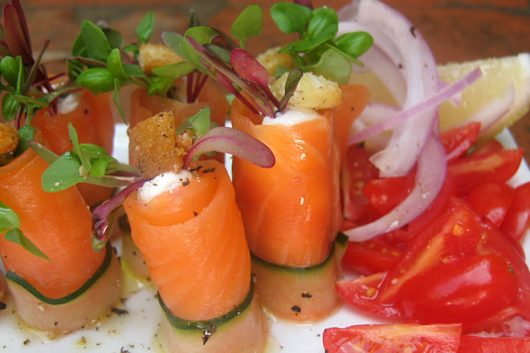 Ingredients:
 Low fat cream cheese
Soured cream
Smoked Salmon, cut in slices
Salt, pepper
Garlic (optional)
Directions:
Mix cream cheese, sour cream, garlic,salt and pepper in a bowl.
Spread the cream cheese mixture on top of salmon.
Roll the salmon, in a long thin roll and then wrap in cling film and put in the fridge for an hour.
Cut the salmon roll into bite size pieces.
Arrange on a serving plate and garnish to your taste.
We have another 12 easy and healthy appetizers or these 7 healthier food options for any holiday. Make you healthy not heavy!