If you are a big hummus fan, then this easy recipe is for you. Indulge it without any remorses and fear to make your waist bigger.
There are many hummus recipes but usually it's made of cooked, mashed chickpeas, blended with tahini, olive oil, chilli paprika, lemon juice and salt. Check the video on how to make the best and the healthiest hummus.
How to Make the Best Hummus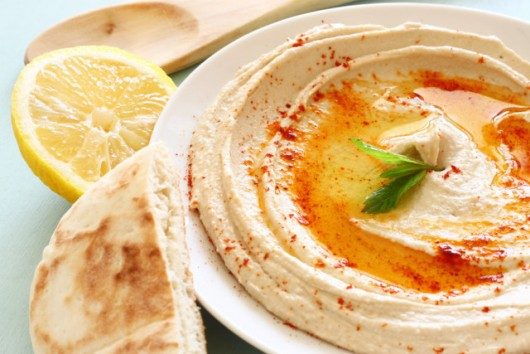 Ingredients:
Olive Oil
1 Lemon
250 g boiled chickpeas
1 clove garlic chopped
1 teaspoon cumin
1 teaspoon chilli paprika
4 tablespoon Tahin (sesame seeds and mais oil mixed)
Directions:
Put the oil in a pan together with the garlic and the boiled chickpeas
Add 1 teaspoon of cumin and 1 teaspoon of chilli paprika
Add 1 cup of water and let it boil until the water evaporates
Add 4 tablespoons of Tahin
Add 1 lemon juice (1 lemon squeezed)
Add some salt
Mix until its creamy and ready to be served
Enjoy!
Check what Three Tasty Vegetarian Foods You Should Try Today.