Now that we are approaching the summer months, it is time to fire up the grill and have some great cook outs! Cook outs can be such a fun time with family, friends and loved ones! Since the summer time is also representative of beach season, it is important that we are eating the right foods when we cook out.
Fortunately for you, the grill is one of the best ways to eat healthy and also add in some bold flavors! When you are cooking out, you should make sure to stay away from the fatty protein sources such as hot dogs, hamburgers, and ribs. You are about to find out that there are delicious alternatives to these cook out meats.
These 5 healthy summer time cook out ideas will fill you up and may even help you lose weight. They will also satisfy your savory and sweet tooth in unique and delicious ways.
The next time that you cook out make sure to follow one of these cook out guides for a delicious and memorable experience!
Cook Out Idea 1: BBQ Grilled Chicken Breasts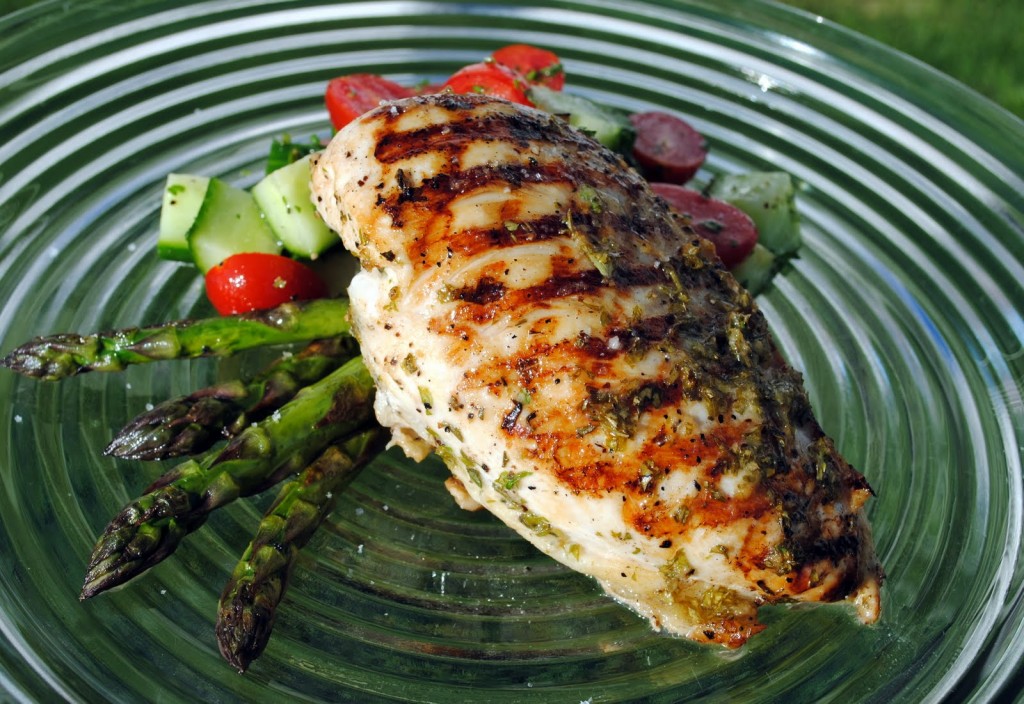 Grilled Chicken Breasts marinated with BBQ Sauce, Olive Oil, and Garlic
Grilled Pineapple with Fresh Honey Brushed On It
Grilled Green Beans, Broccoli and Cauliflower with Olive Oil and Fresh Pepper
This is a delicious and healthy meal that will fill you up with tons of the best source of lean protein and nutrients. Make sure that you buy the boneless skinless chicken breasts. The good thing about grilling is that sugar based sauces like BBQ marinade are mostly stripped of the sugar once they are off the grill, but you still get the flavor. BBQ makes for a great marinade because it has a smoky and sweet combination. Grilled pineapple brushed with honey makes for a sweet treat that you can enjoy guilt free. To grill veggies, simple wrap them in tin foil and brush some olive oil and seasoning on them!
Chicken breast BBQ marinade recipe:
This is healthy! We mix vinegar with some good quality  olive oil.  For about one  cup of marinade (for 5-6 chicken breasts), we need:
3/4 cup olive oil (use a high quality one)
2 tablespoons balsamic vinegar
2 teaspoon salt
2 teaspoon white sugar
some dried oregano, basil, onion and garlic powder, some black or red pepper as to your liking
Mix all ingredients well together. That's it! Now just pour the BBQ marinade into a bag and add the chicken breasts. Let them rest for a few hours.
Cook Out Idea 2: Grilled Salmon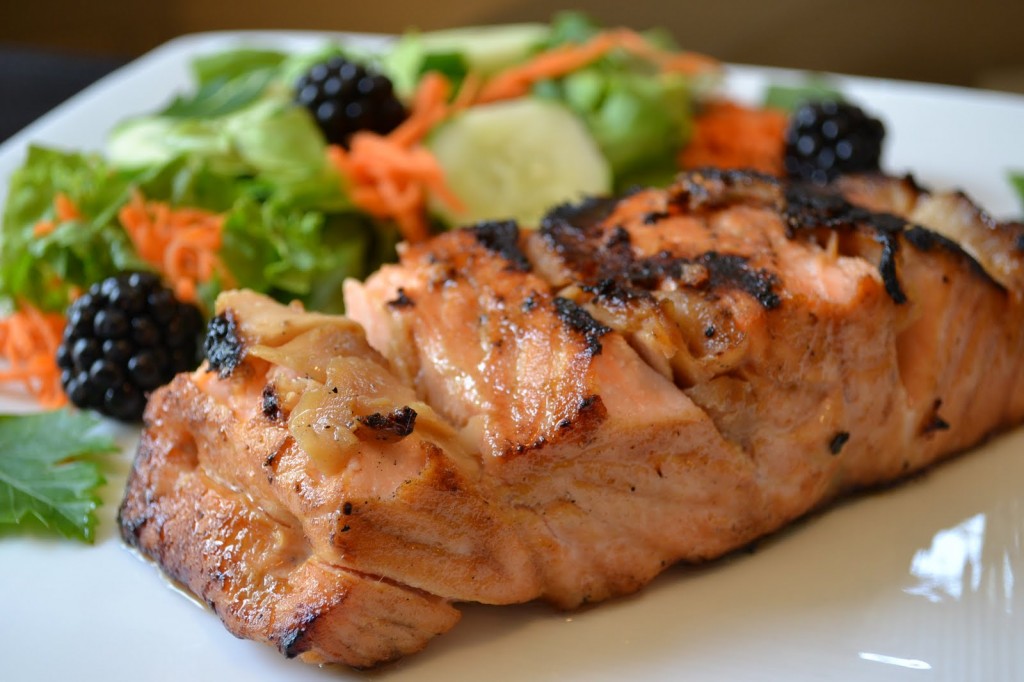 Grilled Salmon Marinated with Olive Oil, Lemon, and Dill
Grilled Asparagus Spears marinated with Balsamic Vinegaratte, Olive Oil and Cracked Pepper
Grilled Sweet Potato Fries with Cinnamon
This is a great meal that combines a healthy source of protein and omega 3 fatty acids with the grilled salmon. Brush some olive oil, lemon and dill and the salmon is delicious on the grill! Grilled asparagus spears make for a healthy and delicious summertime treat and it's one of the best vegetarian protein sources. The combination of balsamic, olive oil and cracked pepper compliment this vegetable perfectly. To make the grilled sweet potato fries slice a sweet potato to your liking and sprinkle fresh cinnamon on it. Throw on the grill for about 30 minutes and you have a healthy alternative to regular fries.
Cook Out Idea 3: Grilled Sirloin Steak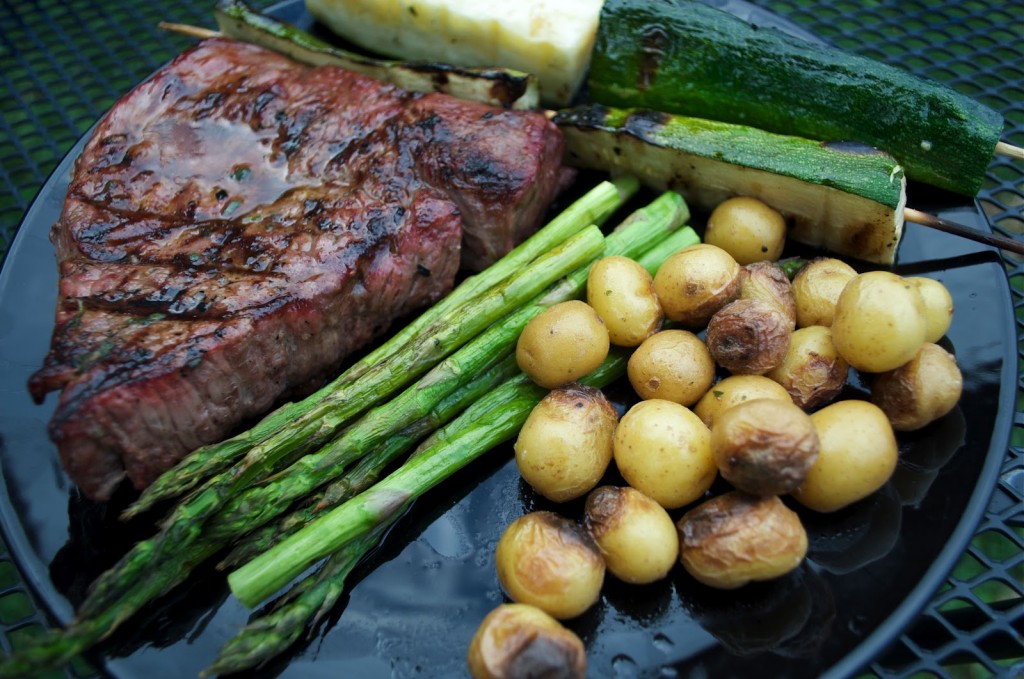 Grilled Sirloin Steak
Grilled Baked Potato Spears
Grilled Cauliflower and Broccoli with Garlic and Honey
This is a high protein and carbohydrate meal that can really accelerate lean muscle gains without a lot of excess calories. And we are all as well aware of the importance of complex carbohydrates. Grilled Sirloin steak is one of the leanest cuts of steak and can be enjoyed guilt free in moderation. Sirloin steak is much leaner than filet mignon and other popular beef cuts. Grilled Cauliflower and Brocolli with garlic and honey is a fantastic complement to the sirloin steak. The combination of the garlic and honey makes these veggies a sweet and delicious summertime vegetable treat. Throw the veggies in some tin foil and throw on the grill for 15-20 minutes and these delicious veggies are ready for your next cook out.
Cook Out Idea 4: Grilled Pork Chops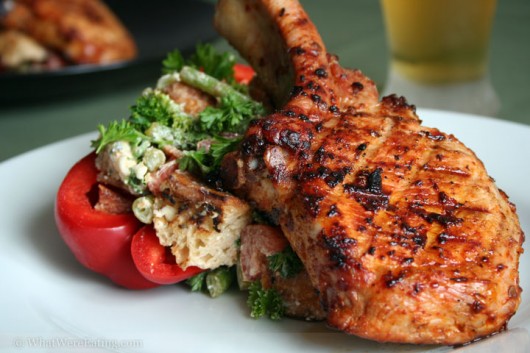 Grilled Pork Chops with Guava BBQ Sauce
Grilled Vidalia onion Blossom
Grilled Sweet Potatoes with Cinnamon Butter and Marshmallow
Grilled pork chops are absolutely delicious on the grill. I recommend brushing on some guava bbq sauce for a unique and protein packed summertime meal. This one will win over all of your friends and family. Vidalia onions are absolutely delicious on the grill. Simply season them as you like and peel the skin and they will be piping hot and delicious within 15 minutes. A much healthier alternative to the deep fried onions you will find at restaurants. The sweet potatoes are so delicious they can be eaten in place of dessert. Marshmallow and cinnamon butter complement the sweet potatoes for a deliciously and sweet combination.
Cook Out Idea 5: Grilled Turkey Burgers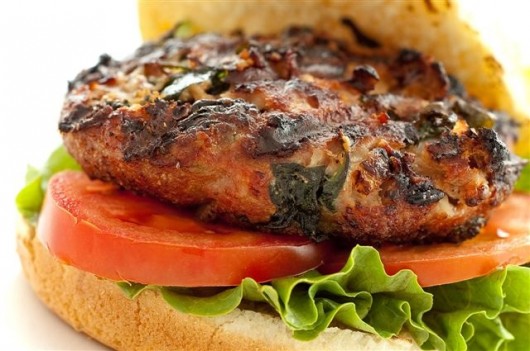 Grilled Turkey Burgers on Whole Wheat Toasted Buns
Grilled Veggie Medley for Turkey Burger Fixings: Onions, Avocado, Tomatoes
This one is a personal favorite. Grilled turkey burgers on a whole wheat bun are a great alternative to the usual hot dogs and hamburgers that are enjoyed during cookouts in the summer. You will be saving over 300 calories per burger by swapping out the lean turkey burgers in place of the fatty beef that is typically used for cook outs. Grilled veggies such as onion, avocado, and tomatoes make these burgers colorful, unique and delicious. Avocado is one of the healthiest things you can consume, and gives you a big serving of healthy fats. Forget the cheese and condiments and decorate your burger with fresh veggies for a real summer time treat!