Eating gluten-free doesn't mean you can't enjoy a delicious Thanksgiving. Quite the contrary! Enjoy your Thanksgiving with these six fantastic gluten-free dishes, from appetizers to desserts.
Gluten-Free Appetizers
1. Stuffed Mushrooms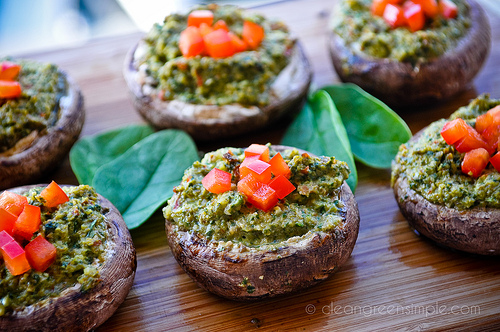 This quick and easy recipe is from Jessica from cleangreensimple.com. Enjoy her vegan, gluten-free stuffed mushrooms.
Ingredients:
6 medium portobellos or about 20 smaller crimini/baby bella mushrooms.
1/4 cup balsamic vinegar (optional)
1 bell pepper (you'll use half in the mix and the other half chopped fine as a garnish)
1 1/2 cups raw spinach
1/2 c. walnuts
2 cloves garlic
1/2 of a small onion
1/2 tsp olive oil
1/2 tsp salt
Directions:
Preheat oven to 400 degrees. In a food processor or blender, combine all ingredients except mushrooms and balsamic vinegar and blend until smooth. Wash mushrooms, carefully remove stems to create a pocket for the filling, and brush with balsamic vinegar. Evenly divide filling amongst mushrooms.
Place stuffed mushrooms on a cookie sheet and bake for 10-15 minutes, until mushrooms have softened and released their moisture. Remove from oven, carefully use tongs or a spatula to transfer mushrooms to serving dish, and top with chopped bell pepper.
2. Bacon Deviled Eggs With Caramelized Onions and Cheddar Cheese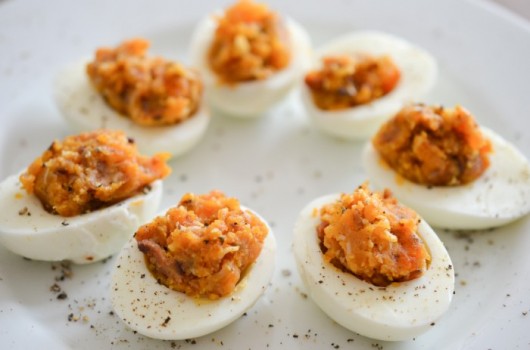 We found these Bacon Deviled Eggs on theendlessmeal.com. Better make sure there are enough for anyone around.
Ingredients:
6 hardboiled eggs, peeled and cut in half lengthwise
4 slices of bacon, cooked crispy (reserve fat for cooking onions)
¼ cup onions, finely minced
1½ tablespoons mayonaise
A small handful finely grated cheddar cheese

Salt and pepper

to taste
Directions:
Finely chop cooked bacon, remove any pieces that are chewy
Saute onions over medium heat in a few tablespoons of the reserved bacon fat until soft and translucent, about 5 minutes
Carefully remove yolks from hardboiled eggs and place in a medium sized bowl.
Add all other ingredients and mash together with a

fork

until everything is well incorporated.
Add salt to taste
Place a heaping teaspoon of the yolk/bacon mix into each egg white
Sprinkle with freshly grated pepper before serving.
Notes: These can easily be made a day ahead. Keep covered in your refrigerator until serving. 
Gluten-Free Main Courses 
3. Roasted Butternut Squash Soup with Pear Cider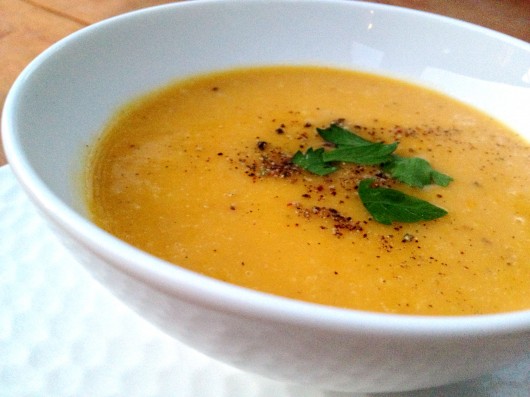 This delicious gluten-free soup is from Shauna James Ahern from glutenfreegirl.com. A heart-warming soup for this Thanksgiving!
Ingredients:
1 large butternut squash peeled, seeded, and chopped
5 stalks celery, rough chopped
3 large carrots, peeled and chopped
2 large onions, peeled and rough chopped
4 cloves garlic, peeled
8 large leaves sage
1 Bartlett pear, peeled, cored, and chopped
3 tablespoons olive oil
4 cups chicken or vegetable stock
1 cup olive oil
3–4 scrapes of fresh nutmeg
1 cup pear cider (apple is fine too)
Salt and cracked black pepper
Directions: 
Heat the oven to 500 degrees.
Put the butternut squash, celery, carrots, onions, garlic, sage, and pear into a large bowl. Drizzle the oil over the vegetables and fruit and toss them together well. Pour them onto a baking sheet.
Put the baking sheet into the hot oven. Roast the vegetables until they are soft, about 30 to 40 minutes. (You should be able to put a fork right through them.) Take the baking sheet out of the oven.
Pour 1/3 of the roasted vegetables into a blender, with 1/3 of the chicken stock. Blend until smooth. Add 1/3 of the oil. Puree until really smooth. Pour that soup into a large bowl and repeat with the remaining vegetables, stock, and oil.
Strain the soup through a chinois or fine-mesh sieve. Return the soup to the pot. Add the cider. Season the soup with nutmeg, salt, and pepper. Bring the soup to a simmer and taste. Season with more salt and pepper, if necessary.
4. Chicken and Spaghetti Squash Casserole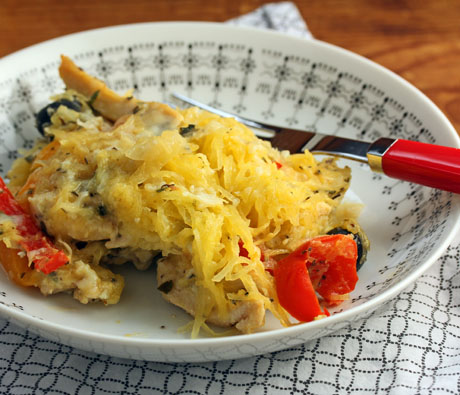 This Chicken and Spaghetti Squash Casserole by Lydia Walshin from theperfectpantry.com is a fantastic gluten-free Thanksgiving entree. Check it out!
Ingredients:
1 spaghetti squash, 2- to 2-1/2 lbs
2 tsp extra virgin olive oil
1 lb boneless, skinless chicken breast, cut into 1/2 by 1-inch slices
1 onion, sliced
2 bell peppers, sliced (I like to use different color peppers)
1 large garlic clove, sliced
1 Tbsp dried thyme
1/4 cup medium black olives
1/2 cup dry white wine
1/2 tsp salt
1/2 tsp fresh black pepper
1/4 cup grated parmigiano-reggiano or romano cheese
4 oz grated low-fat Italian cheese blend (or mozzarella)
1/4 cup chopped fresh flat-leaf parsley
Directions:
Preheat the oven to 375°F.
Cut the squash in half lengthwise, and scoop out the seeds.
Place the two halves cut side up on a rimmed baking sheet. Drizzle each half with extra virgin olive oil. Bake for 45 minutes, or until the squash is tender when pierced with a knife.
Remove from the oven and set aside to cool while you make the rest of the dish; then, use a fork to scrape the "spaghetti" out of the skin. Now that your squash is cooked….
Heat a large nonstick frying pan over medium heat.
Add olive oil, chicken and onion.
Sauté for 3-4 minutes, stirring frequently, until the chicken is no longer pink.
Toss in the bell peppers, garlic, thyme and olives. Continue to cook, stirring, for 2-3 minutes, until the peppers are softened slightly.
Pour in the wine, salt and pepper. Stir until everything is combined, and cook for 2 minutes, until most of the liquid evaporates. Remove from heat.
Place the "spaghetti" strands in a large mixing bowl, and add the chicken and pepper mixture from the frying pan.
Stir in the two cheeses and parsley, until everything is combined. Pour the mixture into the prepared casserole dish.
Cover the casserole with aluminum foil, and bake for 30 minutes. Then, uncover and bake for an additional 10 minutes.
Serve hot. Can be made up to one day ahead and reheated in a 350° oven.
Desserts
5. Pumpkin Pecan Pie Pudding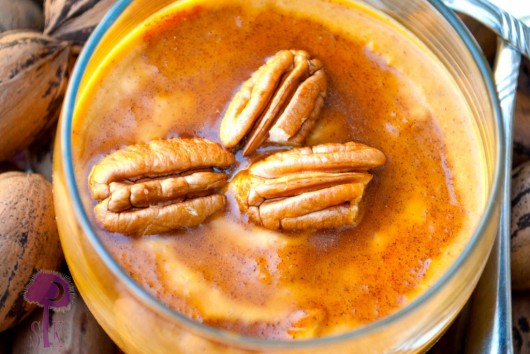 For all pumpkin lovers, Amber from slimpickinskitchen.com has a tasty paleo pumpkin pecan pie pudding.
Ingredients:
¼ raw whole pecans, shelled
1 can organic, full-fat coconut milk
1 can organic pumpkin puree
2½ tsp Pumpkin Pie Spice
2 tsp cinnamon
3 tbsp + 2 tbsp all natural maple syrup or organic agave nectar (separated)
2 heavy pinches sea salt
vegan coconut cool whip (optional)
Directions:
In a dry pan, roast pecan over medium low heat until the aromas are released and they turn slightly darker in color. Let cool completely.
In a large bowl, whisk together coconut milk, pumpkin, pumpkin spice, syrup, and sea salt until well combined. Add additional spice and salt if needed. In a separate bowl, combine 2 tbsp syrup plus 2 tsp cinnamon until well combined.
Chop half of the pecans and place in the bottom of four separate cups or bowls, then top with pumpkin mixture, then top with cinnamon mixture.
Wrap with plastic wrap, and refrigerate for a minimum of 1 hour.
Once set, remove plastic wrap, top with remaining pecans, and serve.
6. Raw Pecan Pie Tartlets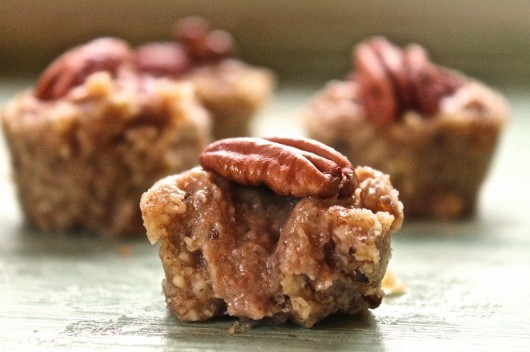 These yummy Raw Pecan Pie Tartlets are from Sarah from mydarlingvegan.com. What a a delicious vegan ending for our Thanksgiving dinner!
Ingredients:
Walnut Tart Shell: 

1 3/4 cup walnuts
3 dates
pinch of salt
Pecan Filling:
1 1/2 cups large medjool dates, soaked for at least 30 minutes
about 1/2 cup pecans
Directions:
In a food processor combine the ingredients for the Walnut Tart Shell.
Blend until the pieces are broken down and stick together when pressed.
Spoon evenly into tart pans or an oiled mini muffin tin (for tartlets) and press down gently to create a thin, even crust on the bottom and sides.
Place in freezer while making the filling.
Place the soaked dates in a food processor or powerful blender.
Add about 1-2 tbsp fresh water and blend until smooth and gooey, scraping down the sides often.
Spoon or pipe filling into chilled crusts and top with pecans.
Place in refrigerator and allow tartlets to set up for at least 1 hour.