You got one of those 12 stylish lunch boxes and are now looking to fill it ? The following 9 easy recipes will help you out. Switch out those ready-made sandwiches for some healthy bites.
It doesn't take a lot of time to prepare healthy even if you are on-the-go and if you know these 5 tips.
1) Salmon Mixed Bean Lunch Box Salad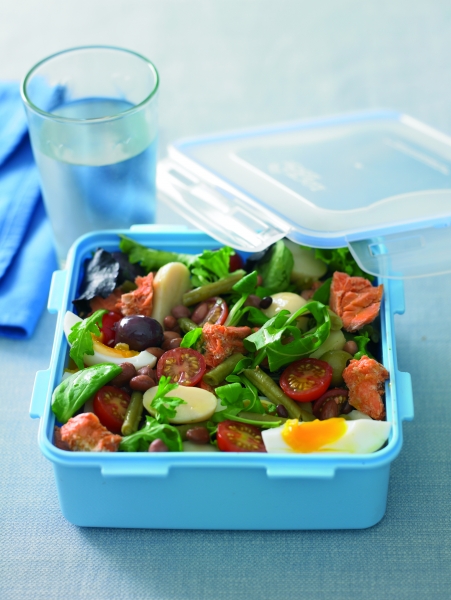 Ingredients:
212g can wild red salmon, drained
1/2 x 400g can mixed beans, drained
1/2 x 300g can green beans, drained
1/2 x 300g can new potatoes, drained and halved
8 cherry tomatoes, halved
2 tbsp chopped fresh parsley
1/2 small red onion, sliced
1 egg, hard boiled (6 mins) cut into wedges
115g bag italian salad leaves
handful of olives (optional)
Dressing:
25ml oilve oil
15ml white wine vinegar
1 small clove garlic, crushed (optional)
1/2 tsp dijon mustard
salt and freshly ground black pepper
Directions: 
Remove the skin and bones from the salmon and lightly flake into a large bowl.
Add the remaining ingredients, except the salad leaves.
Make the dressing by putting all the ingredients into a small bowl or jug and beat with a whisk or fork to combine well. Pour the
dressing over the salmon ingredients, and combine gently.
Finally, heap the salad leaves on top. Seal in a container and chill until required.
Lightly toss together before eating.
2) Chicken Quesadillas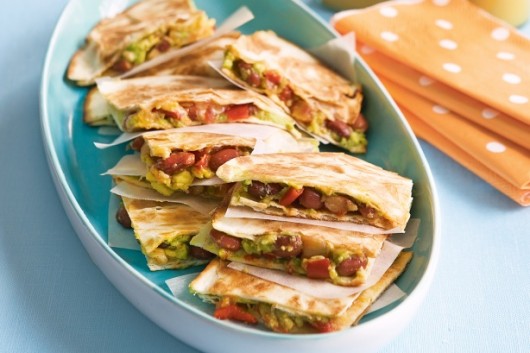 Ingredients:
500g boneless skinless chicken, cut into strips
2 tomatoes, chopped
1 avocado, chopped
a handful of parsley, finely chopped
1/2 onion, chopped
the juice of 1/2 a lemon
salt and pepper
1 cup shredded low fat cheese
4 tortillas
a splash of olive oil
Directions: 
Salt and pepper sliced chicken and add to fry for 2-3 min. Cook until browned and remove from pan.
Add chopped tomatoes, avocado, onion, parsley and lemon juice to a large bowl. Add salt and pepper. Toss.
Preheat oven to 450 degrees. Coat one side of the flour tortilla. Lay tortilla on baking sheet, oiled side down. Add chicken, bacon, tomato and avocado mixture.  Add cheese. Top with another tortilla and coat the top of it with a little more olive oil.
Bake at 450 degrees until lightly browned and crisp.
3) Tuna Wraps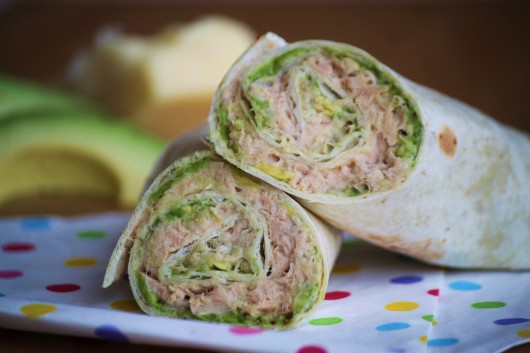 Ingredients:
1 slice Lebanese bread
1 small can good-quality tuna
1 tablespoon cream cheese
Squeeze lemon juice
Handful of parsley, finely chopped (optional)
Lettuce
Tomato, sliced
Directions: 
Combine tuna, cream cheese, a squeeze of lemon juice, parsley and salt and pepper in a small bowl. Mix to combine.
Lay out pita wrap, spread a thin layer tuna mix over the pita wrap (keep in mind that when you roll the wrap you will double or triple the amount of tuna in each mouthful).
Top with lettuce and tomato.
Roll wrap tightly.
4) Pasta Salad
If you have some leftovers of tuna from your tuna wraps and some pasta, use them for this 5-minute salad which you can served for 2.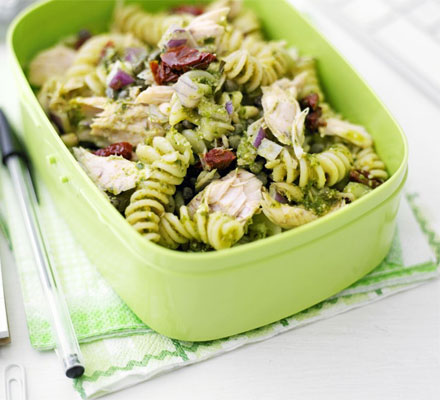 2 tsp finely chopped red onion
1 tsp caper
1 tbsp pesto
2 tsp olive oil
185g can of tuna in spring water, drained
100g leftover pasta shapes
3 sundried tomatoes, chopped
Directions:
Mix the onion, capers, pesto and oil. Flake the tuna into a bowl with the pasta and tomatoes, then stir in the pesto.
5) Spicy Egg Salad Sandwich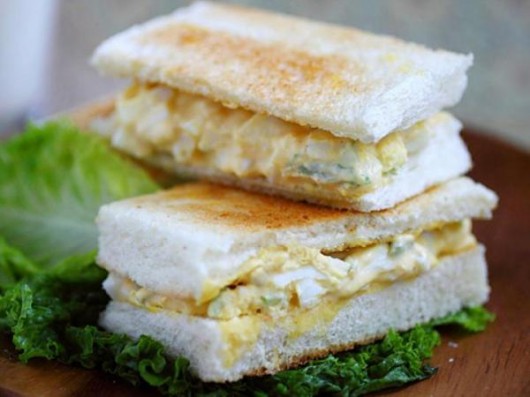 Ingredients:
3 hard-boiled eggs
¼ stalk celery, finely diced
2 ½ tablespoons cream cheese
½ tablespoon bottled chili sauce
Splash of lime juice
¼ teaspoon sugar
Pinch of salt
3 dashes black pepper
Directions:
Boil eggs.
Cut the eggs into halves. Discard one egg yolk and use only two egg yolks. Chop the egg whites into small pieces.
Combine the eggs, celery, cream cheese, chili sauce, lime juice, sugar, salt and black pepper in a bowl. Stir to blend well. Chill in the refrigerator for 15 minutes.
Cut the crust of five pieces of white bread and toast the bread with a bread toaster.
Cut the toasted bread to your choice into halves and spread a layer of the egg salad evenly on a piece of the bread. Top another piece of the toasted bread on top to make the egg salad sandwich. Repeat the same until you use up all the ingredients.
6) Fried Rice With Chicken and Prawns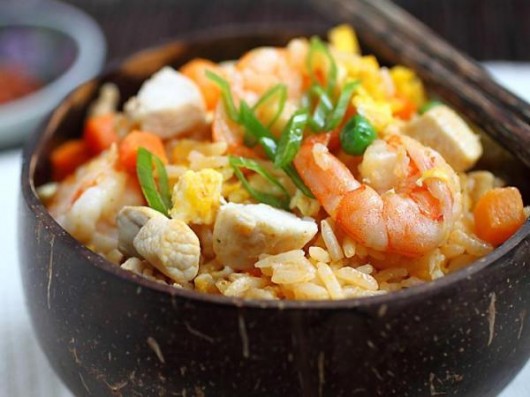 Ingredients:
2 tablespoons oil
1 egg, lightly beaten
¼ small onion, diced
75g chicken, cut into pieces
5 shelled and deveined prawn
3 tablespoons peas and carrots (can use frozen)
250g overnight steamed rice, loosen up
1 teaspoon fish sauce (optional)
Splash of lime juice
Directions:
Heat up ½ tablespoon of oil in a wok and fry the beaten egg into an omelet. Use the spatula to break the omelet into small pieces. Set aside.
Heat up the remaining 1 ½ tablespoons of oil in the wok. Add the onion into the wok and sauté until aromatic.    
Add the chicken, prawn and stir-fry until they are half cooked, follow by peas and carrots.
Add the fish sauce and the egg into the wok. Stir continuously to combine all the ingredients. Remove the fried rice from the wok and add a splash of lime juice.
7) Pumpkin and Minced Pork Bee Hoon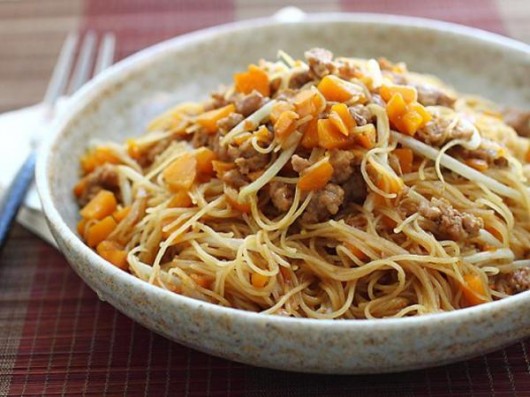 Ingredients:
100g dried bee hoon
2 tablespoons oil
2 cloves garlic, minced
100g pork, minced
100g pumpkin, diced
½ cup water
2 tablespoons soy sauce
1 tablespoon sweet soy sauce (optional)
3 dashes white pepper
100g bean sprouts, rinsed
Directions:
Soak the dried bee hoon in warm water for about 20 minutes. Drain the water and set aside.
Heat up the oil in a wok and add the garlic. Stir-fry the garlic until aromatic before adding the pork and pumpkin.
Add the water, soy sauce, sweet soy sauce, white pepper and bring to boil.
Add the bee hoon into the wok, stir to combine well with the ingredients in the wok.
Continue to stir fry the bee hoon until the sauce is dry and the bee hoon is cooked through.
8) Zucchini Slice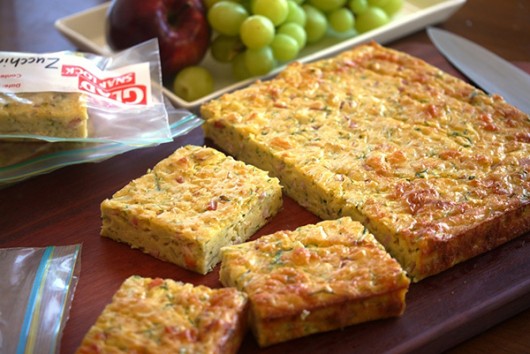 Ingredients:
5 eggs
150g (1 cup) self-raising flour, sifted
375g zucchini, grated
1 large onion, finely chopped
200g rindless bacon, chopped
1 cup grated cheddar cheese
60ml (1/4 cup) vegetable oil
Directions:
Preheat oven to 170°C. Grease and line a 30 x 20cm lamington pan.
Beat the eggs in a large bowl until combined. Add the flour and beat until smooth, then add zucchini, onion, bacon, cheese and oil and stir to combine. Pour into the prepared pan and bake in oven for 30 minutes or until cooked through.
9) Rolled Club Sandwich Wrap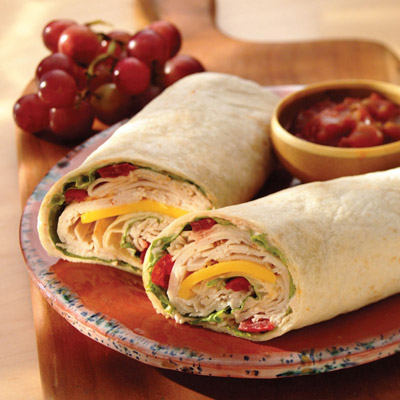 Ingredients:
1 Mission Multigrain Deli Wrap 
2 teaspoons cream cheese 
3 curly lettuce 
50 g cooked, finely sliced chicken 
1 plum tomato, sliced 
2-3 slices Gouda cheese 
2 slices ham 
Olives for garnish, if desired.
Directions:
Gently warm both sides of the deli wrap in a dry frying pan. Place it on a work surface and spread the cream cheese evenly over it.
Arrange the lettuce over the deli wrap, up to about 2 cm from the edges, place the chicken and tomato slices across the middle of the deli wrap from one side to the other, fold one side inwards to cover the tomatoes, place the cheese and ham on top and fold the other side of the deli wrap to cover.
To serve, cut the rolled sandwich into 3cm pieces, discarding the edges. Hold it together with a cocktail stick and garnish with olives.
Well prepared and healthy food is important to keep to your goals. But even eating a lot of healthy food may result in gaining weight. That's why it's important not only to have smart containers for your food but to know how to control the portions.