Pumpkin Spice Lattes, Pumpkin Muffins, Pumpkin Ravioli, Pumpkin this, Pumpkin that… Pumpkin flavored everything! Just avoid the Starbucks, Dunkin' Doughnuts and Cheesecake Factory variety, and embrace foodie Maggy Boyd's healthy pumpkin recipes instead.
Pumpkin Benefits
Low in calories.
High in vitamin A & C.
Rich in antioxidants.
Great source of fiber and potassium.
Pumpkin seeds are rich in protein, minerals, vitamins, and omega-3 fatty acids.
Don't let yourself being misled by the word "pumpkin". Not everything consisting of it is healthy. Beware of these pumpkin treats which are full of fat and sugar. 
Pumpkin Spice Latte from Starbucks: 380 calories, 13 g fat, 52 carbs, 49 g sugar
Pumpkin Spice Muffin from Dunkin' Doughnuts: 550 calories, 24 g fat, 77 cg carbs, 41 g sugar
Pumpkin Cheesecake from Cheesecake Factory: 740 calories, 32 g fat, 95 carbs, 57 g sugar
Here are instead seven recipes that satisfy your cravings and benefit your figure. 
Seven Tasty and Healthy Pumpkin Recipes
1) Pumpkin Pie Spice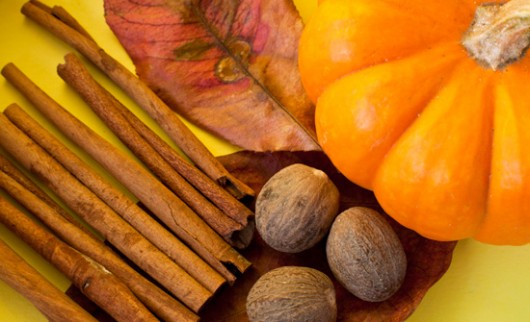 Servings: 1 spice container
Ingredients:
2 tsp cinnamon
¼ tsp ginger
¼ tsp cloves
¼ tsp nutmeg
¼ tsp all spice
1 tbs Pumpkin Pie Spice
Directions:
Combine spices.
Pour spice mixture into container for storage.
Sprinkle in coffees, lattes, yogurt parfaits, and on top of fruit for a seasonal spice.
2) Protein Pumpkin Pow Smoothie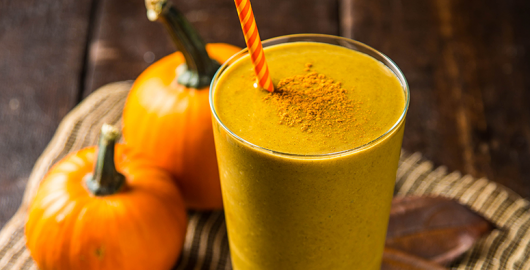 Servings: 1 to 2
Ingredients:
¼ cup pumpkin puree
½ frozen banana
1 cup soymilk
½ cup ice
1 scoop protein powder (optional)
low-fat whip cream
pumpkin pie spice
cinnamon, and nutmeg
Directions:
In blender, add pumpkin puree, banana
Soymilk, ice, protein powder, and dash of each spice. Blend till smooth.
Pour into large glass. Top with low-fat whip cream and sprinkle with spices.
3) Gnocchi with Creamy Pumpkin Sauce & Toasted Hazelnuts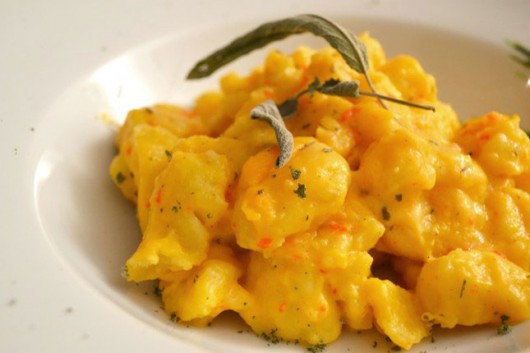 Servings: 6 to 8
Ingredients:
½ cup hazelnuts
1-pound gnocchi
2 minced garlic cloves
1 medium pumpkin*
¾ cup skim milk
2 tbs yogurt butter 
¼ cup low-fat cream cheese
salt, pepper
2 tsp minced fresh sage
¼ cup snipped chives
Parmesan cheese for serving
Directions:
Preheat oven to 375. Spread hazelnuts on cookie sheet and toast for 7 minutes, or until golden. Let cool, then remove skin and roughly chop.
Dice pumpkin into 1" cubes. In large pot of boiling water, add pumpkin and cook till tender with fork.
Meanwhile, in large pot of boiling water, cook the gnocchi according to directions.
Drain and place cooked pumpkin in a blender with milk, yogurt butter, low-fat cream cheese, minced garlic, and sage. Blend. Add salt, pepper, and blend till smooth. Check consistency-  add more milk to thin or more cream cheese to thicken. Return to a saucepan to heat, if necessary.
Pour pumpkin sauce over pasta. Season with salt and pepper. Transfer pasta to bowls, sprinkle with toasted hazelnuts and chopped chives. Serve immediately. Provide Parmesan cheese at table.
*If short on time, may substitute for 1 15-ounce can pumpkin puree and change ¾ to ¼ cup milk.
4) Pumpkin Spice Carmel Popcorn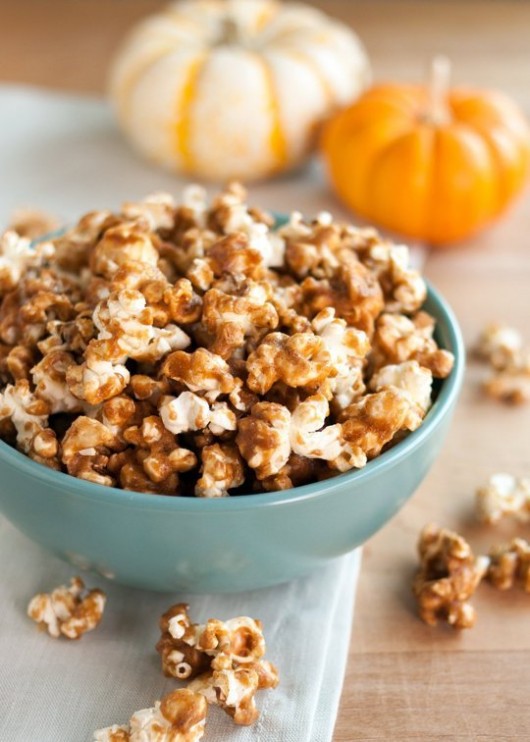 Servings: 12 cups
Ingredients:
3 bags popped microwave popcorn (Look for no salt/butter added)
1/3 cup caramel sauce (sugar-free)
spices: 4 tsp Pumpkin Pie Spice, 1 tsp freshly ground nutmeg, 1 tsp cinnamon, 2 tsp stevia, and pinch ginger.
Directions:
Place popped popcorn in large bowl; lightly coat with cooking spray. Sprinkle with spices, and toss to coat.
Heat caramel sauce in saucepan or microwave. When warm, immediately pour sauce over popcorn mixture and stir to coat. Spread popcorn on wax paper, sprinkle with spices. Let cool completely (about 25 minutes). Break into pieces and store into airtight container for up to a week.
Optional: Add cacao powder, cacao chips, or dark chocolate chips for a chocolatey addition!
5) Whole-Wheat Pumpkin Banana Bread with Chocolate Peanut Butter Swirl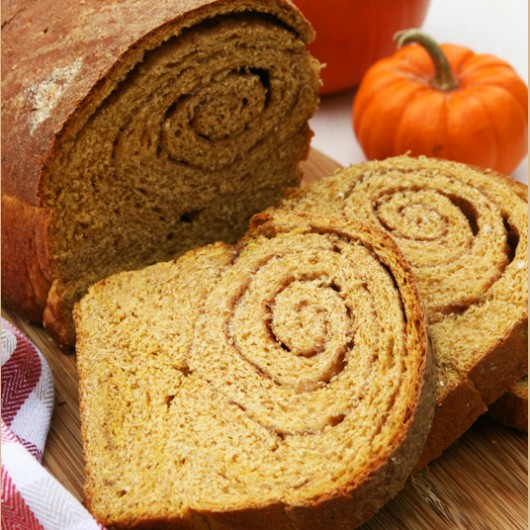 Ingredients:
1 cup canned pumpkin puree
2 mashed banana
1 cup flour
1 cup whole-wheat flour
2 eggs
¼ cup nonfat vanilla Greek yogurt
1 tsp vanilla
1 tsp baking powder
1 tsp baking soda
½ cup brown sugar
½ cup sugar (if possible, use equal parts sugar to stevia or all stevia)
1 tsp all spice

4 tbs chocolate peanut butter (may substitute for 3 tbs chocolate hazelnut butter)
Directions:
Preheat oven to 400 degrees. Grease standard loaf pan. In medium bowl, combine pumpkin and banana. Add eggs, yogurt, and vanilla. Mix until smooth.
Slowly add the flours and stir until combined. Add baking soda, baking powder, sugars, cinnamon, and all spice. Mix until smooth.
Follow recipe on PB2 container to make sauce. Add less water to create a thicker mixture. Place PB2 on top in dollops. Gently swirl with knife.*
Place in oven for 20 minutes, cover with aluminum foil. Take aluminum foil off and cook for another 20-25 minutes, or until toothpick comes out clean. Serve and enjoy.
6) White Bean & Pumpkin Hummus with Pumpkin Spice Pita Chips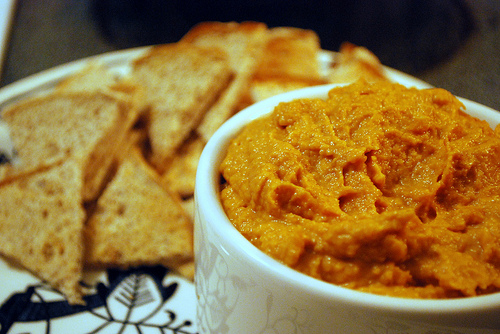 Servings: 12 servings
Ingredients:
3 (6-inch) whole-wheat pita
2 tsp olive oil
½ tsp salt
1 tbs pumpkin spice
1 cup canned pumpkin puree
2 tsp tahini
2 ½ tbs fresh lemon juice
1 tbs extra-virgin olive oil
1 tsp ground cumin
½ tsp smoked paprika
1/8 tsp salt
1 (15-ounch) can cannellini or white beans
2 chopped garlic gloves
Directions:
Preheat oven to 400.
Lightly brush pita with olive oil; sprinkle with salt and pumpkin spice. Cut each pita half into 6 wedges and place on to baking sheet. Bake for 5 minutes, flip, and bake for another 5 minutes, or until golden brown.
In the meantime, pour pumpkin puree and remaining ingredients in to a food processor. Blend until smooth. Serve hummus in bowl with pita chips and freshly cut vegetables.
7) Creamy & Crunchy Pumpkin Pie Oatmeal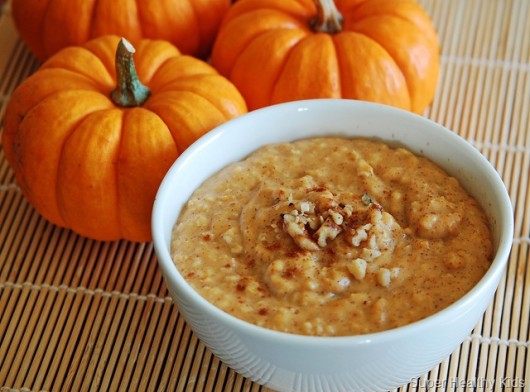 Servings: Serves 2
Ingredients:
1 cup dry oatmeal
2 tsp stevia
1 tsp each: cinnamon, 

nutmeg, pumpkin pie spice

3 tbs pepita seeds
3 tbs sliced almonds
½ cup pumpkin puree
¼ cup 0% greek yogurt
Directions:
On stovetop, cook oatmeal accordingly to directions. When almost done, add stevia, cinnamon, nutmeg, and pumpkin pie spice.
Preheat oven to 400. Place nuts on cookie sheet and bake till golden brown. Remove from oven.
In a bowl, combine pumpkin puree and greek yogurt. Mix until smooth.
Pour oatmeal into bowls, top with creamy mixture, and then finally top with crunchy nut mixture. Sprinkle with pumpkin pie spice and serve.
Bonus: Sweet-Pumpkin Cookies Video Recipe. They are so tasty and easy to cook that you'll want to eat them more and more.