Looking for  new fitness shaker? How about one that also serves as a portable mixer. We love Blender Bottle, and here is why. 
Normal people probably won't think too long about a water bottle, but if you are a serious fitness enthusiast, you will know your bottle better than your partner. After all, it's one of the most used accessories. Drinking water before, during and after workouts is important .
So, what's important in a fitness bottle?
For us, it's three things.
1) It must be durable and it must not leak. If you ever used a cheap merchandising bottle that you got free with your supplements, you know what we mean. After the first use, they seem to start leaking, and after a few months, they fall apart.
We've been using Blender Bottle for years. They are durable and will basically last forever. They close tightly and that means no leaking. Throw your Blender Bottle into your bag or onto your car seat without being afraid of any spills.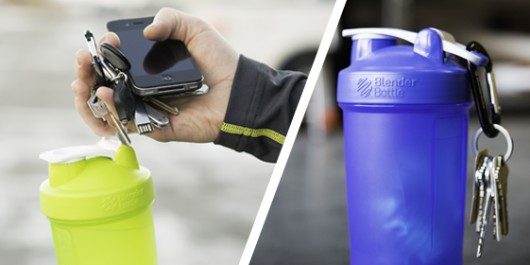 2) It must not stink. No plastic odors, please. The Blender Bottle is dishwasher safe and BPA- and phthalate-free.
3) It must shake well. Mix any shake and sport drink easily with the help of the BlenderBall. It works surprisingly well. With protein powder, a mixer is no longer necessary.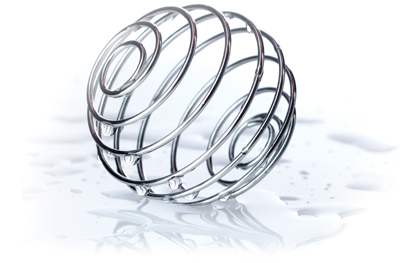 The Blender Bottle comes in a few different designs. If you like it trendy and stylish even in sports, go for the Signature Sleek BlenderBottle.
If you are serious about your gains, go bigger with the BlenderBottle Pro45. It has an extra-wide mouth to fit oversized scoops and a heavier BlenderBall to mix every last bit of powder.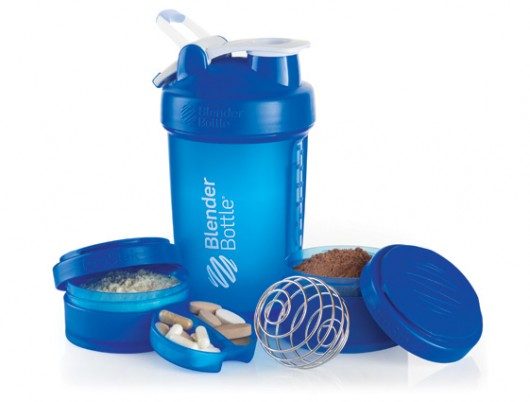 With the BlenderBottle ProStak you can add as many containers to your bottle as you need to carry your supplements, snacks, pills, and liquids anywhere with you. These jars can be quickly attached or detached from the bottle. They have individual lids, making it possible to carry with or without the bottle. You can add yogurt, fruits or any other kind of  pre and post – workout liquids and powders and be sure that nothing leaks, even during vigorous shaking. 
You can buy the Blender Bottle on Amazon.com or directly from BlenderBottle.com.